Ellen Marie Wiseman Talks Family, History And The Plum Tree
Wed, 01/09/2013 - 10:28am — admin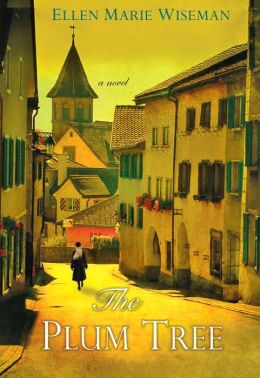 Author Ellen Marie Wiseman's debut novel, The Plum Tree, earned a Top Pick! rating from RT. A historical mainstream novel set during World War II, The Plum Tree tells the story of Christine Bölz, a young German woman who falls in love with a Jewish boy. But as Hitler begins to take over Europe and nations fall prey to Nazi Germany, the couple's secret love becomes dangerous. An engrossing tale of love's enduring nature, Wiseman's novel was inspired by her own German heritage. Today the author shares how her family history influenced this unforgettable story. 
When it comes to love during a time of war, there are millions of stories waiting to be told. In my novel, The Plum Tree, a poor, young German woman, Christine Bölz, falls in love with Isaac Bauerman, the son of her wealthy Jewish employer, in Nazi Germany on the eve of WWII.
When I wrote The Plum Tree, I could have focused on any number of family stories as the foundation for my plot. My grandparents' story sounds straight out of a romantic movie — "Devoted husband and father of three is drafted into the German Army during WWII and sent to the Eastern front, where he is captured and sent to a POW camp. For two years his family has no idea if he is dead or alive, until he shows up on their doorstep one day."
Oma, Opa, my mother and uncles. This picture was taken before Opa was sent to the Russian front. There was another, nearly identical picture taken without Opa, to send to him while he was off fighting. 
In the photo taken before my Opa is sent off to fight, my grandparents are smiling as they pose with my mother and uncles. I often wonder what was going through their minds at the time. Did they worry that this could be the last time they would be together? Did they wonder if the war would come to their small village and threaten their children's lives?
During the four years Opa was gone, Oma repaired damaged military uniforms to bring in a small income. She stood in ration lines for hours on end, made sugar out sugar beets, and bartered beechnuts for cooking oil. She cooked on a woodstove, made clothes out of cotton sheets, raised chickens and grew vegetables to keep her children fed. Under the cover of night, she put food out for passing Jewish prisoners and listened to illegal foreign radio broadcasts—both crimes punishable by death. She put blackout paper over the house windows so the enemy wouldn't see their light and, night after night when the air raid sirens went off, ran down the street to hide with her terrified children inside a bomb shelter.
My mother's childhood home suffered only minor damage during the frequent air raids. After the war, it was taken over by American soldiers for a few weeks. This half-timbered three-story house is still in the family. 
I could have based the story on my maternal great grandparents, who survived WWI only to have my great-grandfather killed in WWII while trying to save the family home during an air raid. A burning wall from a neighboring barn fell on top of him, and my great-grandmother was severely burned trying to save him.
I could have based the book on my mother, who, after reading American magazines left behind by occupying Allied soldiers, took a ship to America alone, at the age of twenty-one, to marry an American soldier she barely knew.
These stories and more were the inspiration behind The Plum Tree. But by inventing the love story between Christine and Isaac, I was able to tell them all. Imagine my surprise when, after I named my main character Christine, my mother told me that my great-parents' names were Christine and Christian. I guess it was meant to be!
My maternal great grandparents, Christine and Christian. These photos are from their, Ausweise, or identity booklets. 
In this school picture, taken eight years before she left for America, my mother is wearing a sweater knitted by her Oma, from wool she spun herself. In Germany during that time, parents had to pay for their children to go to school after eighth grade. My mother and her classmates were often pulled from class to gather a late harvest or pick potato bugs from farmers' fields.
- Ellen Marie Wiseman
Interested in reading Wiseman's historical tale of love and loss? The Plum Tree is available now. And for more great reads, check out RT's Everything Mainstream Page.