Enter to Win Bree Despain's The Lost Saint and a Special Gift!
Tue, 12/28/2010 - 11:54am — admin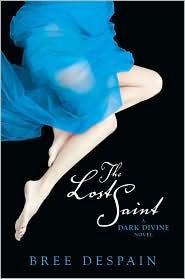 The day we've been waiting for is finally here — today Bree Despain's The Lost Saint hits shelves! All month long you've had a chance to read about some of the behind-the-scenes moments from the making of The Lost Saint. You also got a sneak peek at the prologue, first and second chapters of the story. Now, to celebrate the release of The Lost Saint we have one final message from the author and a special GIVEAWAY: five copies of The Lost Saint and matching nail polish. Be sure to check out the details at the end of the post!
Bree says:
Wow, I can't believe it is finally publication day for The Lost Saint. Writing this book was an intense experience — which is fitting since some pretty intense things happen to my characters — and waiting to finally share their story with the world has been excruciating at times. Luckily for me, RT BOOK REVIEWS' preview of the first couple of chapters of TLS helped ease my anticipation over the last few weeks. I hope you've enjoyed getting an early look at The Lost Saint as much as I've enjoyed sharing. If you get the chance, be sure to check out the rest of The Lost Saint—available in bookstores today!

- Bree Despain
Learn the Event That Inspired the Series >>
Discover What Writing Challenge Bree Despain Faced >>
Find Out What Helped Her Break Through >>
GIVEAWAY ALERT: To enter to win a copy of The Lost Saint and a snazzy matching bottle of nail polish, leave a comment on this blog post telling us why you would hate (or love) to be in heroine Grace's shoes! You can also send your comment here, along with your U.S. mailing address and the subject line "Bree Despain's The Lost Saint Giveaway." One entry per person, please. The five winners will be announced on January 11th!
BLOG UPDATE 1/11/11: And the winners are ... Elizabeth Morgan, Lizz, StacieDM, Drmgrl99 and Amanda R.