Event Recap: Veronica Roth Celebrates Allegiant in NYC
Wed, 10/23/2013 - 2:07pm — admin
Veronica Roth with Christian Madsen (playing Al) and Ansel Elgort (playing Caleb)
Photo by Margot Wood
With a massive line of people that stretched from the entrance of the 92Y on Lexington Ave. in New York City and wrapped all the way around the corner, one would have thought a rock star was in town. Even passersby were curious and often stopped to ask who we were all waiting for. With much enthusiasm, our answer was simple: Veronica Roth — who, to be fair, is pretty much the author version of a rock star. Once inside the 92nd Street Y theater, fans eagerly awaited for Veronica to take the stage to discuss Allegiant, the highly anticipated third and final book in her sensational Divergent trilogy.
After a brief introduction from the 92Y's program director, moderator Breia Brissey, an associate editor at Entertainment Weekly, and the star herself, Veronica Roth, graced the stage. When asked how she felt about having finished the series, Veronica said, "I feel relieved … It feels more like the end. It's bittersweet — it's sad to let the characters go." The ending of Allegiant has already garnered some pretty heated reactions online, but Veronica said she always knew how the series was going to end, and she only clued in three or four other people. "I hope everyone likes it," she added.
As to what she'll do next? "Take a series of really long naps," Veronica joked, though we wouldn't blame her if she actually did this. She's going to be a very busy woman again once the film adaptation of Divergent hits screens in March. In regards to her next writing project, Veronica said, "I always have ideas, but I want to go back to the old way I used to write, where I write until I can see if the story has legs."
The conversation shifted back to the series and Veronica discussed the importance of Tris's transition into adulthood, particularly in regard to her relationship to her mother. "Their relationship became a beautiful way to express Tris coming into adulthood … It's essential to adulthood to realize adults have an independent life outside of you. I learned that my mom was really a bad ass."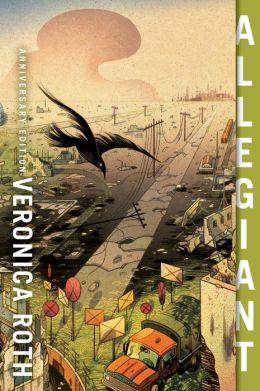 On the topic of character names, Veronica discussed how most of the secondary characters have names that simply came to mind, with no specific meanings. But with Tris, she wanted a, "stuffy sounding name that could be shortened to something tough" while Tobias (AKA Four) is an homage to her favorite Animorphs character.
And the evening couldn't end without some sneak peeks at the Divergent movie. The audience was treated to a previously released behind-the-scenes video as well as the first official trailer, which debuted back in August during the MTV VMA awards. Anytime Theo James appeared on screen, the crowd went nuts! It's safe to say he's on track to becoming as popular as Robert Pattinson or the members of One Direction. (We love you, Harry.)
Following the trailers, Breia and Veronica welcomed two stars of the movie to the stage: Ansel Elgort, who plays Tris's brother Caleb, and Christian Madsen, who has taken on the role of Al. "Sorry we're not Theo and Shay," Ansel joked when he sat down. Jokes aside, there was no need for apologies — ear-piercing shrieks and squeals of excitement erupted the moment the two actors walked on stage. The due answered questions and told stories about meeting Veronica for the first time on set to how they relate most to their characters. Veronica remarked earlier in the evening that she was amazed by how much "everyone took so much pride and care with their roles," which was illustrated by Ansel and Christian's thoughtful and in-depth answers.
With supposedly close to 800 books to sign, Veronica greeted each fan with excitement and ease, and even personalized each book. It's incredible and true testament to her character that she has remained gracious and down to earth throughout her successful career.
Overall, the event was a lovely evening that brought together the most die-hard Divergent fans to celebrate the final book. Veronica answered questions skillfully and gracefully, and had the audience eating out of the palm of her hand. We can't wait to see what she does next.
Have you read Allegiant yet? Let us know what you think in the comments (and please mark your spoilers!). For more YA visit our Everything Young Adult page.