Excerpt Break + Giveaway: Sylvain Reynard's Gabriel's Redemption
Mon, 11/25/2013 - 10:30am — admin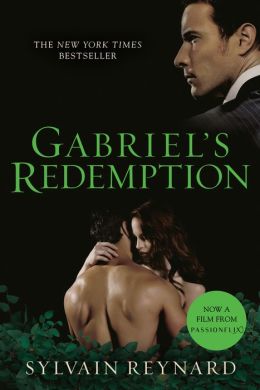 It's a short week for America as we prepare to celebrate Thanksgiving. We know it's hard to concentrate, and, as always, we're here for you. With an excerpt break! Today we've got a sneak peak at Gabriel's Redemption, the much-anticipated conclusion to Slyvain Reynard's smoking hot trilogy, out next week. We've also got a giveaway, details below!
We'll set the scene for you: Julianne and Gabriel are relaxing at his parents' former home in Selinsgrove, Pennsylvania. They've spent a long day entertaining relatives from both sides of their family and are looking forward to a quiet, private evening in the sanctuary of the master bedroom.
And now we know your interested is piqued … 
As Julianne waited for the water level to rise, she felt the hairs of her neck stand on end. She turned to find Gabriel standing by the vanity. He'd unbuttoned the top three buttons of his dress shirt; a few strands of chest hair were now visible over the band of his white undershirt.
"I'll never tire of looking at you." He pressed a kiss to her neck before removing the plush towel she'd wrapped around herself.
"I should paint you." He stroked her spine with his fingertips, up and down.
"You painted me the other night, Caravaggio. We got paint all over the floor."
"Ah, yes. It pained me to have to clean it up. I was hoping we could add to it."
"That will have to wait for a night when we don't have guests." She gave him a saucy look. "Care to join me?"
"I prefer to watch."
"Then I'll be sure to put on a show." She lifted her hair from her neck with both hands, arching her back into the pose of a pinup girl.
He groaned and took a step forward.
She held out her hand, stopping him.
"I left my bubble bath in the guest bathroom last night. Would you mind getting it for me?"
"Not at all. Goddess." He tasted her lips before walking away.
A few minutes later, he handed the bubble bath to Julia, who proceeded to lace the water with its sandalwood-and-satsuma-scented essence before climbing into the tub.
She arranged herself in what she thought would be a provocative pose.
Gabriel adjusted the lighting, dimming it before disappearing into the bedroom. A moment later, he returned, and Julia heard the voice of Astrud Gilberto floating from the speaker that was mounted in the ceiling.
Julia gave her husband an appreciative look. "Thank you, darling."
Wordlessly, he unbuttoned his shirt. He pulled it off and removed his T-shirt, exposing his tattoo and the light dusting of dark hair on his muscled chest.
UPDATE: The winner is Donna Fuller.
Gabriel's Redemption is on sale December 3, in stores and online — find more info and pre-order your copy here. And we have a copy to give away! Comment below telling us how you plan on relaxing this weekend for your chance to win, U.S. residents only please. You can also e-mail your entry here with the subject "Gabriel's Redemption Giveaway and your U.S. mailing address. A winner will be announced here Monday,  December 1. And for more erotic tales, visit our Everything Erotica page.