Excerpt Break: Kelly Jamieson's Slammed
Tue, 09/17/2013 - 2:52pm — admin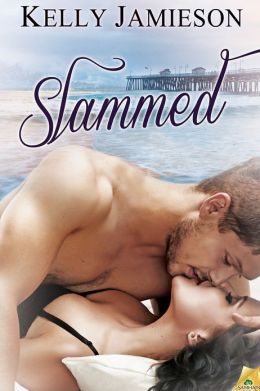 Fall might be right around the corner, but that doesn't mean we're going to turn down a sexy surfer hero. Kelly Jamieson's latest contemporary erotic romance, Slammed, features PR maven Brooke Lowry, who is called to Tahiti to work on pro surfer (and full-time bad boy) Dylan Schell's bad reputation. While she's determined to turn this playboy's image around, the two get stranded during a three-day storm, and Brooke realizes there's more to Dylan than hanging ten and cruising the beach for ladies. If a sports romance featuring a surfer hunk and the woman caught up in his waves sounds right up your alley, we've got the complete first chapter available for download! But before you commit to a whole chapter, try the first page...
Stand up as best man at Matt and Corey's wedding? Jesus, he'd rather take a longboard in the nuts.
Dylan gave his cell phone a black look and then held it back up to his ear. His best buddy Matt had emailed him about this, but now he was on the phone pressing for an answer. "Yeah," Dylan said. "Thanks and all, but I don't see how I can get back there for the wedding."
"We planned it for September because we knew you'd be back then for the Jackson Cole Pro," Matt said. "You're going to be here anyway."
Huh. Dylan ran his tongue over his teeth and stared out at the blinding turquoise of the South Pacific lagoon from the deck of his thatched bungalow over the water. Fuck. He couldn't miss that competition, even though he knew he'd likely have to see Matt and Corey when he was back for it.
"The wedding's the weekend before the competition," Matt added. "That gives you time to get here from Tahiti."
Yeah. True. Having just finished the Rip Tide Open in Tahiti, his next stop on the tour was San Amaro, California.
"We want you here, man," Matt added. "Seriously. It would mean a lot to us."
Best man? What a joke! Seeing as the bride-to-be had picked another man, Dylan hardly felt like the "best man."
He drew in a long breath and let it out. "I don't know," he said. "I don't know if I can swing it."
He looked up as Lexi emerged from the bungalow onto the deck, completely naked. Her tanned body gleamed in the sunlight and she shook back her long blonde hair, giving him an impatient what-the-hell-are-you-doing look. He smiled.
Hooked? You can get Slammed, available digitally now! For more steamy love stories visit our Everything Erotica page.