Exclusive Advanced Excerpt: Shield of Winter by Nalini Singh
Wed, 05/07/2014 - 10:29am — admin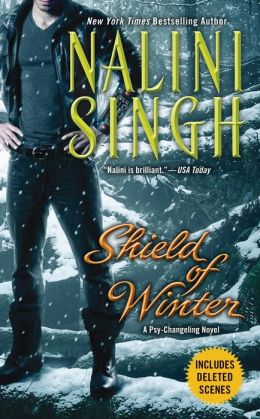 Twenty-six. That's how many days fans of Nalini Singh's Psy/Changeling series have to wait until the paranormal romance master's next book, Shield of Winter, which tells TK-V Vasic's story, hits shelves. Ugh, 26 whole days! We don't know about you, but we're terrible at waiting, which is why we're bringing you an exclusive, advanced excerpt from Shield of Winter! We know it's only a brief distraction from the wait, but hopefully it will help tide you over until June 3. Enjoy!
"You're early," she whispered to the man who'd appeared in front of the cabin.
"I'm not here for your decision." Winter gray eyes scanned the area.
Rabbit jerked awake on a growl just as the Arrow disappeared around the side of the house. Heart thudding, Ivy could almost think she'd imagined the whole surreal experience, but he appeared around the other side of the cabin not long afterward. "You expected a threat?" she managed to ask, one hand on Rabbit's rigid back.
"No." His face an unreadable silhouette against the night sky, his shoulders outlined by starlight, he added, "A simple security sweep." Ivy was now under Vasic's protection, even if she hadn't accepted the contract.
A startled spark in eyes that were dangerously expressive even in the low light. "Oh." Continuing to pet her dog, she said, "Would you like something hot to drink?" A frown. "You must be cold if you're doing security sweeps at this time of night."
Vasic paused. She was afraid of him, the instinctive response an intelligent one. And yet she'd offered him sustenance—empaths did not appear to have the best sense of self-preservation. "No," he said. "Why are you sitting here?" Talking to her hadn't been on the agenda.
"I like the quiet." Her face softened, the husky thread in her voice more apparent. "There's a kind of secrecy in the world at this time of night, as if I'm allowed to see mysteries hidden in daylight."
Vasic thought of the deserts and isolated mountain outlooks where he went in an effort to find peace from the shades of those he had erased, considered if Ivy Jane would see mysteries in those locations, too. "You should go inside." His thoughts were immaterial because Ivy would never experience the places in question. "My readings tell me the temperature will drop considerably in the next fifteen minutes."
Getting to her feet, the throw bulky around her, Ivy nodded. "I think you're right. I can taste more snow in the air."
It was a sensual way to describe a meteorological function, another sign that Ivy Jane was in no way Silent. Not that he needed the confirmation—her presence was sandpaper against his senses, harsh and abrasive. It didn't matter. As Aden had pointed out, the sensation might be uncomfortable, but it wasn't debilitating.
And Vasic had made a promise.
So long as he drew breath, he would protect her.
Posted by arrangement with Berkley Books, a member of Penguin Group (USA), LLC, A Penguin Random House Company. Copyright © Nalini Singh, 2014.
You can get your hands on a copy of Shield of Winter June 3 (but you probably already have it marked with a big heart on your calendar). For more paranormal tales, be sure to visit our Everything Paranormal page!