Exclusive Excerpt: Christi Barth's Friends to Lovers
Wed, 10/16/2013 - 12:05pm — admin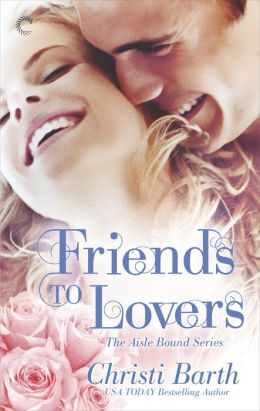 We all love receiving a visit from the florist, but what does that bouquet mean? Today Christi Barth is here to tell us about the elusive language of flowers, and to share an exclusive excerpt of her new contemporary, Friends to Lovers, starring a florist heroine …
The language of flowers has existed for centuries in various forms. I use it in my contemporary romance, Friends To Lovers. My heroine, Daphne, is a florist who goes the extra mile to be sure her bouquets not only look pretty, but mean something. This is not a new tradition. There were mentions of the language of flowers in the Bible. Early Chinese dynasties used it, along with the Ottoman Court, the Japanese and all of Western Europe. The language of flowers hit its popularity peak in the mid-1800s, with hundreds of editions of books about it being published. Remember, Victorian England was when conventions dictated that they cover piano legs because they were too graphic, and you could only refer to a person's limbs. So sending covert messages of attraction via perfectly acceptable bouquets was a great way to tell a girl you had the hots for her.
How does that translate into today's world? Wedding bouquets (including Kate Middleton's!) often contain ivy, symbolizing fidelity. Red roses stand for deep love, while yellow roses indicate friendship.
Next time you have a friend starting a new job, give them a bouquet of lavender, for luck and success. Need something less girly to send to your husband's office? Give him a bird of paradise as a symbol of faithfulness. And instead of roses, give your new love red tulips, which are a declaration of love. Most of all, have fun with it!
And now, for an excerpt, here's a steamy scene between Daphne and her hero, as they work on that friends-to-lovers transition.
"The relationship upgrade."
"Oh, that."
"We are giving it a go, aren't we? Or have I scared you away? Buggered the second chance you gave me? Because there's more to this date." Gib rushed on, before she could turn him down again. Understanding him didn't mean she necessarily wanted to be with him. Or that she forgave his thoughtless behavior of earlier this week. "Thought we'd go for pizza at Giordano's after this. Your favorite. And I've got three pints of Ben & Jerry's in my freezer with your name on them. Also your favorites."
"Tempting. But I don't feel like ice cream."
Gib's mind raced. He could call Sam to see if the bakery had any leftover brownies, or maybe a slice of cake. Or swing by the Cavendish and get the pastry chef to hand over one of his signature pecan bourbon crème brûlées. "What are you in the mood for, then?"
"Something hot." Daphne threw one leg to the opposite side, straddling his lap. She drew the blanket around her shoulders. Slowly, she lowered her body until her center rested on the part of him already pulsing with need.
"Wait." God, it killed him to say that. Not sure he'd ever said it before to a woman grinding her crotch into his. "I don't want a pity kiss. That's not why I told you my story."
"I know. You told me to share your vulnerability. Like Samson cutting his hair, or when Arwen gives Aragorn her necklace in Lord of the Rings."
Both she and Ivy had pestered him for months after every one of those movies. "Damn it, I told you three Halloweens ago. I'm not putting on elf ears and a blond wig just for your amusement."
"Silly, that's Legolas, not Aragorn." Daphne laced her hands behind his neck. "And we agreed earlier that role-playing is down the road a bit. You shared your life with me, Gib. There's nothing more personal. And now I want to share a different kind of intimacy with you."
"I don't need a fucking reward."
Daphne shook her head. "Not out of pity." Her eyes closed, and she sighed. "I've always admired and respected you as a man. Now that's changed. My admiration's tripled. My respect for the struggles you've overcome, the road you've walked along and the man you've become—well, that's off the charts. I thought I wanted you before." Her eyes opened, gaze forthright and hotter than a blue laser. "Now, I know I do. I need you. I need to show you how deep my feelings run."
Ready to stop and smell the roses? Then why not pick up a copy of Friends to Lovers, available online today. And for more love stories, be sure to visit our Everything Romance page.