Exclusive Excerpt: Fall Into You By Roni Loren
Mon, 01/07/2013 - 1:28pm — admin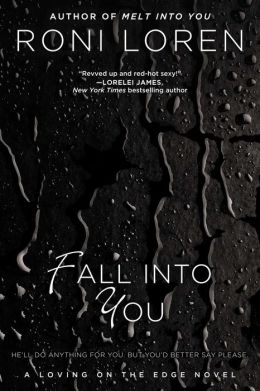 There's no better way to take a new book for a test drive than with an exclusive excerpt! Today we bring you a sizzling snippet of Roni Loren's latest Loving on the Edge novel, Fall Into You, a steamy story about a reporter with something to prove who finds herself under the protection of one of Texas' top Doms.
When sports journalist Charli Beaumonde is told she's not feminine enough for a gig hosting one of TV's top sports programs, she vows to prove her skills as a reporter are top-notch by uncovering a major football scandal. But as she inches closer to the truth, her life is on the line and she must accept help from family friend Grant Waters, who offers his home as a hideout. Charlie has no idea Grant resides at "The Ranch," one of the areas top BDSM resorts, where he runs the show as an expert Dom.
Charlie is fascinated by Grant's lifestyle and believes she has what it takes to be one of his submissives. But can she convince Grant that despite her tomboy looks, smart mouth and defiant attitude, she's the sub for him? RT reviewer Bridget Keown cautions readers that this BDSM love story is "occasionally shocking and relentlessly intense ... this book isn't for the faint of heart," but we're leaving it up to readers to decide! You can download a PDF of the full excerpt here, or by clicking on the first page below.
Fall Into You is available in stores now. And for more erotic romance, check out our Everything Erotica Page!