Exclusive Excerpt: Heather Graham's The Night is Forever
Thu, 10/03/2013 - 1:21pm — admin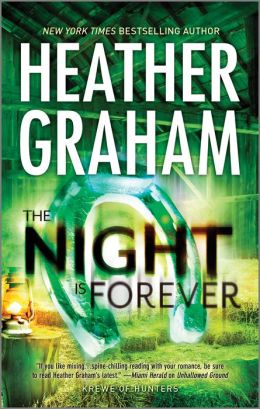 Ready for an excerpt break? As always, we're here for ya. Today we've got Heather Graham's latest Krewe of Hunters title — an RT Top Pick! — The Night is Forever.  RT reviewer Anna said of Heather's latest, "the lessons here will resonate with anyone who has dealt with grief, mental illness, addictions or setting personal boundaries."
Interested? Read on …
"Yes, I've met Malachi. No, I haven't worked with him. This is my first assignment with the Krewe of Hunters."
"What?" She jumped up, sloshing tea, and then set her mug on the coffee table as she stared at him. "What? Oh, I don't mean to be insulting, it's just that…I call for help, and my cousin sends a newbie?"
"I'm hardly a newbie, Olivia," he told her, trying not to lose his temper. She was looking at him as if he'd barely managed to graduate from high school. "I've been with the bureau. I've been a Marine. I've been a cop. I  think I'm up to the task."
"I—I—I said I was sorry," she said. "I'm not trying to offend you, but this isn't…well, you can see how much good it's done to go to the police, to anyone—"
"And I told you that I believe you when you tell me you're speaking to a dead man!" He was letting his voice grow too hard. She didn't mean to offend. She wasn't trying to do so.
But it seemed that she didn't need to try.
She opened her mouth and closed it again, struggling for poise. He kept his own mouth shut, waiting. He was a professional, for God's sake. He would act like one.
"Okay," he said at last. "Cards on the table. I wasn't thrilled to have my first Krewe assignment be a situation in which we're not even officially invited and in which everyone I meet seems to think I'm a lawman run amok. Half of them assume I shot up a pool of suspects and the others figure I went crazy. Still, that's part of the job. I said I believe you, and you need to do me the same courtesy. But you have to trust in me and keep me informed. And please don't worry so much about my credentials. According to Jackson Crow, I've been on his radar for a while now, and when this came up, it seemed the right time for him to call on me. I'm from Nashville. I know the city and I know this area. Malachi couldn't come himself—not with any real validity, or any real chance of blending in with the locals, if you will. Do you understand?"
She slowly sank back onto the couch.
"Yes," she said flatly. She still didn't look happy.
If you must read more, The Night is Forever is on sale now, in stores and online. And for more spooky tales, be sure to visit our Everything Paranormal page!