Exclusive Excerpt: Jennifer Delamere's A Lady Most Lovely
Wed, 09/25/2013 - 1:14pm — admin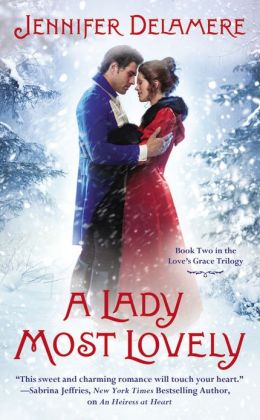 Ready for an excerpt break? Your RT Web Team is here for you. Today we've got an exclusive snippet from Jennifer Delamere's A Lady Most Lovely, out this week. It's the story of Margaret Vaughn, a wealthy heiress — or so London society believes. When her betrothed turns out to be a poor social climber, Margaret has nowhere to turn to pay off her father's debts, until she meets Tom Poole, a shipwreck survivor rich off of Australia's gold fields. Can Tom save Margaret? Will she let him? Read on...
"Mr. Poole, I came out here to do some riding."
"Isn't that what we're doing?" He looked down as if to reassure himself that he was indeed on horseback.
"I mean some real riding. I assume that magnificent beast knows how to do more than walk slowly enough for an old lady to keep up?"
He gave her an amused grin. "I thought the purpose of coming to Rotten Row was simply to see and be seen."
"Well, then, let's show them something."
What had gotten into her? She had no idea. The words were out of her mouth before she could think—a truly unusual thing for her. He had disarmed her in so many ways.
He looked down the green. "To that elm tree, then."
She followed his gaze to a line of a dozen or more trees. All elms. "Which elm tree?"
But her words were lost in the pounding of his stallion's hoof beats as he raced away. So it was going to be like that with "Just Tom," was it? With a surge of excitement that temporarily erased the troubles weighing on her, she sent her mare into a gallop and chased after him.
Ready to race off and read A Lady Most Lovely? It's on sale in stores and online now! And for more on the love stories we all adore, be sure to visit our Everything Romance page.