Exclusive Excerpt: Kendra Elliot's ALONE
Mon, 01/06/2014 - 4:37pm — admin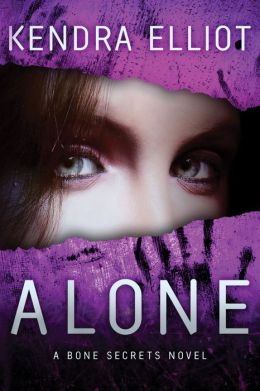 The way today is going, either you're stuck inside somewhere very cold, or you're somewhere warm, tired of hearing everyone else complain about the freezing temperatures (if you live somewhere warm, we're incredibly jealous). Either way, we think it's time for an excerpt break! Today we've got something to get your spine tingling with Kendra Elliot's RT Top Pick! romantic suspense Alone. It's the story of forensic anthropologist Dr. Victoria Peres, who must process a horrific crime scene with five dead girls, one clinging to life.
Kendra set the scene for us:
"I knew before I wrote Alone that I wanted to use a Pacific Northwest landmark as my setting and create a crime scene that felt hopeless yet ethereal at the same time. I wanted the reader to experience my characters' reactions to the vulnerability of the victims and feel their determination to solve the teenagers' deaths. My stories dive deep into the emotions of the people who solve the crimes and the families of the victims. I love to show my characters fighting for their happy-ever-after and taking down the criminals in the process."
***
Trinity sat in the waiting room at the medical examiner's office and tried to make herself disappear. She hunched over her clip­board, glancing occasionally at the growing number of people milling about the room, avoiding eye contact. No one asked her any questions. The growing crowd was mostly adults, and each one or couple had a clipboard with the questionnaire.
The room was tense. Some parents cried, others spoke in hushed tones, and more simply stared into space, their hands in a death grip or clenching a spouse's hand. Cell phone screens were constantly checked and calls made. Trinity's questionnaire about Brooke was finished, but she hadn't turned it in. As long as she didn't hand in the form, Brooke wasn't confirmed as dead. She clung to the clipboard, her fingers icy and her feet numb.
Ever since she'd seen the news on TV, she'd felt like she couldn't get enough oxygen. Her brain was locked away, pro­tected from thinking deeply. A door slammed in her mind if she started to consider Brooke's fate. She'd floated, barely function­ing on half power since speaking with Dr. Peres.
In her heart, she knew something was wrong.
Brooke always returned texts.
Trinity read the questionnaire for the hundredth time.
Age
Hair color and length
Eye color
Height
Estimated weight
Any unusual scars, birthmarks? Braces or tattoos?
Clothing last seen wearing
Brooke didn't have braces or tattoos. Trinity didn't know about any scars. The form was so sterile. It didn't allow her to describe Brooke's beauty or laugh. Or explain what a good friend she'd been . . . was. She'd filled in answers that were short and cold. Brooke's sunny smile flooded her brain, and she immedi­ately shut the image down.
Don't think about her.
The parents in the room had filled out their forms as quickly as possible and given them to Anita. Some had demanded to view the girls' bodies and were deftly turned away. Others sat silently in the chairs, staring at their cell phones, sending texts, and waiting. Trinity counted nine tissue boxes in the room. All were getting regular use "Oh, thank God!" shrieked a woman staring at her phone. She and her husband leaped up, and she fell into his arms, her shoulders shuddering. He hugged her hard, his head buried in her neck. Pulling apart, they stumbled across the room to Anita's desk, tears spilling down their cheeks.
"My daughter just texted me back. She was at her boyfriend's instead of where she'd told us she was spending the night." The woman's voice cracked as Anita dug through the questionnaires and pulled one out.
"I'll shred this," Anita said to the mother.
"No, I want it," the mother said grimly, holding out her hand. "I want to show her what we went through because of her lies. Maybe she'll learn something."
Anita nodded and handed her the form. The couple headed out the door and all of the other parents watched them through the large windows. Halfway across the parking lot, the mother stopped and turned to her husband. She collapsed against him, her legs visibly shaking. They embraced in the lot, leaning heav­ily on each other.
The other parents looked away.
Can't wait to find out what happens? Alone is on sale today! And for more action-packed love stories, be sure to visit our Everything Romance page.