Exclusive Excerpt: M. Leighton's Everything For Us
Fri, 09/13/2013 - 11:21am — admin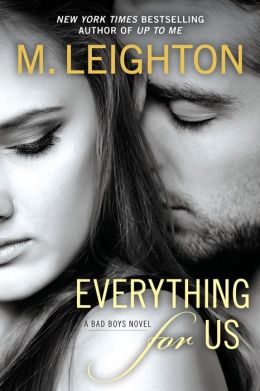 When a bestselling author writes a set of books called The Bad Boys series, do you just automatically buy them? In M. Leighton's case, that's probably a good idea! We at RT are suckers for bad boys (… if only in fiction) and so we were thrilled with M. Leighton's series and especially her latest, Everything for Us, which received an RT Top Pick! It's the story of Marissa, who's taken an interest in criminal law — and Nash Davenport, who comes from a family of crooks. 
Intrigued? We're here to help you to wile away a few minutes of your day with an exclusive excerpt.
Leighton herself set up the excerpt, saying … 
This interaction takes place on a balcony, overlooking Bourbon Street in New Orleans during Mardi Gras. Marissa has had a little too much to drink and this marks the place in time when Nash begins to realize that she isn't the frigid ice queen he'd thought her to be. He's toying with her in this portion of a scene, but in the end, he becomes the victim of his own game.
"Why so glad?" I ask, keeping talk to a minimum.
"Because I need someone to kiss right now. And it's only us girls out here." She pauses to look around. I do the same. But for us, the balcony is empty now. "Well, was," she giggles. It appears everyone has left and wandered back inside. It's just me and Marissa and the half million people milling around on the streets below us, some of them no doubt watching.
"Well, I'm here now," I say, staring down into her almond-shaped eyes. She might be a frigid bitch most of the time, but she's got some spice in her. I can see it in the smoky invitation of her gaze, in the sexy curve of her mouth.
… Due to the potential to spoil, this is as far as I can go. Once you get the book and read on, you'll understand why. I hope you enjoy it as much as I enjoyed writing it.
- M. Leighton
If you're hooked, Everything for Us is available in stores and online now. And for more contemporary love stories, be sure to visit our Everything Romance page.