Exclusive Excerpt: Sara Humphrey's Unclaimed
Tue, 12/03/2013 - 12:52pm — admin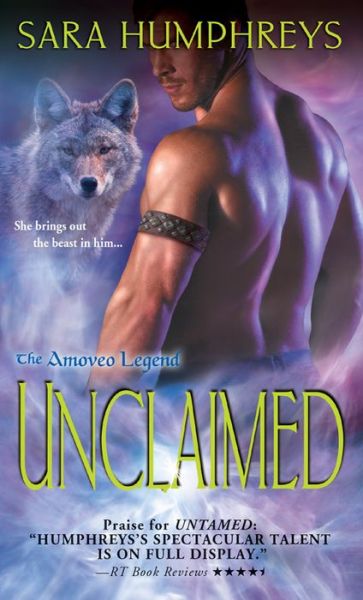 Ready for an excerpt break? We certainly are! Today we've got Sara Humphrey's RT Top Pick! Unclaimed for you. It's the story of veterinarian Tatiana Winters. Half Amoveo, half human, she meets guard Dominic Trejada when she heads to the Prince of Amoveo's ranch to care for their horses. When strange things start happening on the ranch, they suspect the Purists, a fringe group of Amoveos who hate hybrids — including Tatiana. RT reviewer Jennifer calls Unclaimed fascinating, engaging and a must read. We know we're convinced! Want a taste? 
Tatiana shot out of bed, tumbled over the side, and landed on the floor with a butt-bruising thud. Her sweat-soaked sheets were tangled around her legs, and it took her a moment to get her bearings. Her breath came in quick gasps as she looked furiously around the bedroom of the guest cabin and was greeted by a series of warm licks on her arm from Cass.
"I'm okay, buddy." She rubbed his head reassuringly and whispered to him soothingly, knowing it wasn't just for his benefit. However, the little dog was a rather empathetic little creature. "It's going to be alright."
Pressing a hand to her chest, she let out a slow breath and squeezed her eyes shut as a sense of calm flooded her, and the effects of the dream faded. Still shaking, she unfurled the sheet from her ankles and tossed it onto the bed as she stood on unsteady legs. Casanova trotted over to the pile of pillows where he'd been sleeping and settled back in, but kept a watchful eye on Tatiana.
Seconds later, static electricity filled the room, and Dominic materialized next to her in his half-naked, shirtless glory. His face was etched with concern, and his glowing amber eyes shone brightly in the dimly lit room.
Without saying a word, he gathered her in his arms, and within seconds she could feel his heart beating in rapid time with hers. She should protest, or at the very least, admonish him for coming into her bedroom uninvited, but as her cheek pressed against the smooth, warm skin of his chest every coherent thought was driven from her.
"I'm so sorry," he whispered.
One hand rested on Tatiana's hip with tender strength as he kissed the top of her head and sat with her on the edge of the bed. He leaned back looking at her intently. Holding her face in his hands, he tenderly brushed his thumb along her cheek. It was the same look that made her stomach flutter and her heart race, but this time it wasn't from panic or fear—it was lust.
White-hot-pin-me-to-the-wall-and-make-me-scream kind of lust.
Hoo boy! Unclaimed is out today, in stores and online, if you're ready for more! And we've got even more paranormal romances for you to enjoy on our Everything Paranormal page!