Exclusive Excerpt: Sarah Addison Allen's Lost Lake — with Giveaway!
Thu, 01/23/2014 - 1:34pm — admin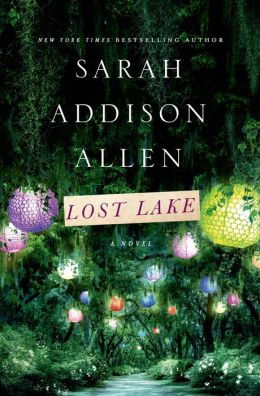 Oh readers, it's real cold outside. The snow isn't quite so shimmery anymore. And it's only Thursday. So let's all take an excerpt break, shall we? Today for you we've got Sarah Addison Allen's RT Top Pick! Lost Lake. It's the story of a grieving Kate, who moves with her son to her great aunt's cabins in Lost Lake, Ga., to try and get over the death of her husband. RT reviewer Melissa Parcel calls this one a "truly great read to be savored." Curious? Read on, and enter below for a chance to win!
Every year since her husband George died, the fat man with tight skin and fake hair showed up on the first day of summer and offered to buy Lost Lake from Eby. He would hoist himself from behind the wheel of his Mercedes, something that seemed to take more and more effort with the passage of time, then he would stare at the lake, his greedy thoughts mentally cutting down trees and building luxurious lakefront houses. Eby would watch as his fingers twitched and his knees shook, and there were times when she could actually feel the earth start to tremble, as if the sheer power of his will was going to develop the property right in front of her eyes.
When he was through staring, Eby always invited him inside and offered him iced mint tea and butter cookies, the ones Lisette made that looked like big shirt buttons. Something special to ease his disappointment, because Eby always said no. He wasn't used to people saying no, and Eby felt sorry for him, the way she'd always felt sorry for those who had everything and it still wasn't enough.
This year, though, Eby didn't offer him any refreshments.
When he drove away later that morning, Eby put her hand to her chest, where there was a sensation of tiny wings fluttering just under her skin. She finally did it. She finally agreed to sell the property to him. She'd never felt quite this way before. She was usually so sure of things. Now she felt . . . anxious. When his car disappeared through the trees, her eyes went to the picture- postcard swamp of a lake in front of her, flanked by cypress trees and loblolly pines, the area so quiet and so removed she could hear the water softly knocking against the aging dock.
This old cabin resort she and her husband George had bought after their honeymoon was slowly going downhill. Money was tight, and there was always a cabin in need of repair. Most distressingly, for the first time since buying the place, there hadn't been a single guest over the winter. They'd always had reservations in the winter. Being so close to the Florida border, snowbirds used to flock here from the north, woolen caps still on their heads, road salt still stuck to their tires. But the regular guests had aged along with everything else. Many of them were gone now. Some couldn't drive anymore. Some had simply grown fond of their comfortable chairs by warm windows and didn't want to leave home.
This was the right decision. It had to be.
Want to find out how it all works out for Kate? Enter to win one of three print copies. (U.S. residents only.) For more life stories, visit our Everything Mainstream page.