Exclusive Excerpt: Sherryl Woods takes us Home to Seaview Key
Mon, 01/27/2014 - 10:55am — admin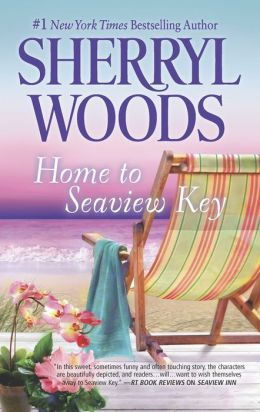 Is it cold where you are? Because it's awfully chilly here at RT HQ. So if you're looking to escape the freezing temps as much as we are — or if you're lucky enough to live somewhere tropical, in which case, we are super jealous — come along with us on today's excerpt escape! Because Sherryl Woods is taking us Home to Seaview Key, her latest Top Pick! rated romance. Want to take a peek as divorcee Abby and paramedic Seth get to know each other? Read on!
Whether he was merely to serve as a buffer to keep the gathering on an even keel or whether dinner was a setup for him and Abby, Seth was surprisingly eager for Luke and Hannah's dinner party. It had been a long time since he'd taken such care getting ready for an evening out. Apparently his time had been well spent.
"You look great," Hannah said, grinning when she greeted him at the door. "I love your aftershave."
Seth flinched, fighting a desire to run home for a shower. "Too much?"
"Not at all. Come on in. Abby's already here. She and Luke are on the porch out back. You can grab a beer before you join them. Or would you rather have wine? I opened a bottle of red for Abby."
"A beer's good," he said, following her through the house.
So far, Hannah seemed surprisingly at ease. He hoped that boded well for the evening. He accepted the beer she offered, then went outside with her.
His gaze immediately went to Abby. He was pretty sure his eyes glazed over the instant he saw her. She looked drop-dead gorgeous, nothing at all like the bedraggled woman he'd dragged to shore or even the casually attired woman he'd joined for lunch at The Fish Tale. This woman looked as if she'd just returned from a shopping trip in some exclusive mall in Naples, over on the mainland. She was put together with elegance and care, though he suspected her linen slacks and silk blouse were meant to be beach casual. Every highlighted hair was in place, too. She was a jaw-dropping sight, that's for sure, just like those images his sisters had envied in their piles of fashion magazines.
Truthfully, though, he'd liked her better half-naked and soaking wet. She'd seemed approachable then.
He felt Hannah nudge him in the side.
"Say hello," she encouraged, grinning.
"Nice to see you again," he said, then took a chair as far from Abby as he could get. This Abby was not only intimidating, she was evidently way, way out of his league. Whatever fantasies he'd been spinning suddenly seemed wildly out of reach, the differences between them emphasized by salon styling and designer duds.
Judging by his expression, Luke was almost as amused as Hannah by Seth's dumbfounded reaction.
"Abby was just telling me about how she ended up starting a restaurant," Luke said. "She got tired of eating fried fish all the time."
"You have no idea," she confirmed, her gaze on Seth. "I mean, I love seafood. How could I not, growing up here? But The Fish Tale doesn't cook every single thing in a deep fryer."
"So you went into the restaurant business out of desperation?" Hannah asked.
"Something like that," Abby said. "I worked in a couple of very nice places in Pensacola to learn how to run a restaurant, took some cooking classes so I'd know more about what really good food could be, then found an inventive chef who was interested in the same sort of restaurant I'd been envisioning. Seemed to us there was no reason a small town couldn't have excellent food."
"Were you equal partners?" Seth asked.
She shook her head. "I was able to scrape together the start-up money," she said modestly. "He had the ideas. We made it a sixty-forty arrangement. We were one of the lucky ones. The restaurant caught on. By the time I left, we were so successful he was able to buy me out."
"Did you start the restaurant before or after you met your husband?" Hannah asked.
"Before," Abby said, a frown passing across her face. "Marshall wouldn't have approved of me opening it after, but he could hardly complain since I was already in business when we met. In fact, we met right there when one of the members of his vestry at the church brought him in for dinner."
Seth nearly choked on his beer. "You were married to a minister?"
Home to Seaview Key is on sale now in stores and online. And for more tropical romance, visit our Everything Romance page.