Exclusive Excerpt: Suzanne Brockmann's Do or Die — Plus Giveaway!
Mon, 02/03/2014 - 12:14pm — admin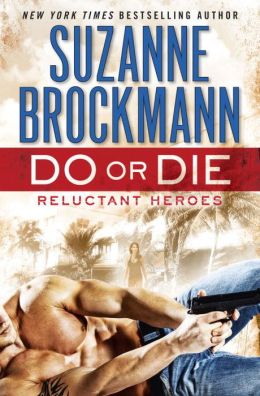 When you pick up a Suzanne Brockmann title, you expect alpha heroes, danger and excitement. And with the start of Suzanne's new Reluctant Heroes series (can we just say we love that title?), vintage Suz is back. Want to see for yourself? Check out this excerpt of Do or Die, where ex-Navy SEAL turned jewel thief Ian (can we just say we also love that job title?) gets roped into a new case. And check out the bottom of the post, where we're giving away a copy!
Aaron had just gotten Rory down for a nap when the phone rang.
"Motherfuh— " He cut himself off, in case the shrill ringtone had woken up his son. At eleven months old, Rory was starting to make word-sounding noises, and motherfucker was not going to be part of his vocabulary. At least not until he went to school and heard it from some other kid with crappier parents.
Getting him to nap today had been a battle for the ages, with Rory sobbing as if his life was ending— which was always jarringly reminiscent of the first painful months of the baby's life. But time had been on Aaron's side. Tired was tired, and with the kid wearing himself out even further with all the drama, it was just a matter of when before the eyes started rolling back in that tiny, brilliant, sweet- smelling little head.
Aaron answered the phone with a whispered, "Yeah? What?" which probably wouldn't win him any prizes if the caller were someone from that nursery school Shelly so desperately wanted Rory  to attend.
Like one nursery school over another made a shit of a difference in Rory's future as the next president of the United States, or whatever Shel had in mind.
Aaron himself hadn't gone to nursery school or preschool or early childhood development school or whatever the fuck it was called these days.
Which . . . actually argued the case in Shel's favor, since Aaron was now a stay- at- home- dad with a warrant out for his arrest.
And oh yeah, his only living family was his douchebag of a brother, Ian, who had vanished almost a year ago— no doubt gone off to save the world. Son of a bitch.
Ian had sent some lame- ass unsigned card when Rory was born. A card, and a hundred thousand dollars in U.S. savings bonds. His generosity was a thinly veiled reminder that he'd wanted them to move far away— or at least to leave Florida. He'd wanted them all to go— Aaron, Shelly, and Shel's older sister Francine, too. But Ian couldn't support them forever. His funds were not limitless, and Sarasota was where Shelly had a high- paying job hope was that in just a few years, the company would go public, and part ownership of a thriving computer soft ware firm. The  hope was that in just a few years, the company would go public, and Shelly could cash out, leaving them set for life— and free to vanish for good. Besides, Sarasota was a fairly large city, well over an hour away from Clearwater. As long as they were careful and kept their heads down, they were safe enough. They'd had that argument with Ian— and won it— long before he'd disappeared.
Living under assumed names in Florida was safer than using their real names in  Alaska— a fact that Ian had finally conceded mere days before he'd left.
Since then, there'd been monthly postcards that all said the same thing in Ian's crappy printing: Love you. Miss you. Stay safe.
Don't be stupid.
Right now, though, there was silence on the other end of the phone, and Aaron heard himself saying, "Ian?" because he was just that stupid. He was loaded with undying hope that would spring to life at the tiniest spark. Like, what he was actually, stupidly thinking right now was maybe— maybe— Eee was calling
from some spooky overseas job, hence the flaky connection.
Yeah, right.
Whoever was on the other end didn't say a word, and the connection was cut with a very definite click.
Aaron looked at his phone and the caller ID, of course, said private.
"Fuck you," Aaron whispered to the phone, and to his brother, too, wherever that douchebag was. And he went down the stairs and turned on the baby monitor in the kitchen, and got to work doing the dishes and cleaning the counters so that the granite sparkled and shone. If he was lucky, it would earn him not just a grateful smile but maybe a little something extra when Shelly got home from earning the big bucks that kept their perfect little family afloat.
So good, right? Enter here to win a copy! U.S. residents only, please.
Do or Die is available in stores and online tomorrow! In the meantime, for more dangerous love stories, visit our Everything Romance page.