Exclusive Excerpt: Wally Lamb's We Are Water
Wed, 10/23/2013 - 11:31am — admin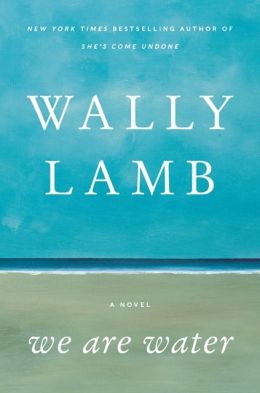 Story time! We once had the pleasure of interviewing bestselling author Wally Lamb, and he told us an awesome Oprah anecdote — earning our undying devotion forever.
It seems that even before Oprah started her amazingly popular book club, she had a habit of calling up authors of books she liked, just to tell them so. When Wally recieved his first call from O, he was flabbergasted. Of course, Oprah went on to found that book club, and to choose not one but two of Wally's titles as picks (both She's Come Undone and I Know This Much is True). We're not sure if Wally's phone has rung yet regarding the RT Top Pick! GOLD rated We Are Water, out this week, but we're hoping it did. 
If you want to find out if your and Oprah's tastes line up, then why not check out our exclusive excerpt of We Are Water, which our reviewer called, "powerful" and a "must read." 
I understand there was some controversy about the coroner's ruling concerning Josephus Jones's death. What do you think, Mr. Agnello? Did he die accidentally or was he murdered?"
"Murdered? I can't really say for sure, Miss Arnofsky, but I have my suspicions. The black community was convinced that's what it was. Two Negro brothers living down at that cottage with a white woman? That would have been intolerable for some people back then."
"White people, you mean."
"Yes, that's right. When I got the job as director of the Statler Museum and moved my family to Three Rivers, I remember being surprised by the rumors that a chapter of the Ku Klux Klan was active here. And it's always seemed unlikely to me that Joe Jones would have tripped and fallen headfirst into a narrow well that he would have been very much aware of. A well that he would have drawn water from, after all. But if a crime had been committed, it was never investigated as such. So who's to say? The only thing I was sure of was that Joe was a uniquely talented painter. Unfortunately, I was the only one at the time who could see that. Of course now, long after his death, the art world has caught up with his brilliance and made him highly collectible. It's sad—tragic, really. There's no telling what he might have achieved if he had lived into his forties and fifties. But that was not to be."
I'm upstairs in my studio, talking to this curly-haired, pear-shaped Patrice Arnofsky. When she called last week, she'd explained that she was a writer for an occasional series which profiled the state's prominent artists in Connecticut magazine. They had already run stories on Sol LeWitt, Paul Cadmus, and the illustrator Wendell Minor, she said. Now she'd been assigned a posthumous profile of Josephus Jones in conjunction with a show that was opening at the American Folk Art Museum. "I understand that you were the only curator in his lifetime to have awarded him a show of his work," she'd said. I'd told her that was correct. Agreed to talk with her about my remembrances of Joe. And so, a week later, here we are.
What do you think? Would you call up Wally and sing his praises? We Are Water is available now, online and in stores. And for more mainstream stories for you to enjoy, visit our Everything Mainstream page.