Extended Excerpt: David Baldacci's One Summer
Fri, 06/10/2011 - 11:36am — admin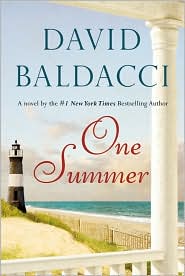 Bestselling author David Baldacci is best known for his thrilling mysteries but this month the author is tugging on our heartstrings with his mainstream novel, One Summer. Check out the first two pages of the story below and don't miss the special treat at the end of this post!
***
Jack Armstrong sat up in the secondhand hospital bed that had been wedged into a corner of the den in his home in Cleveland. A father at nineteen, he and his wife, Lizzie, had conceived their second child when he'd been home on leave from the army. Jack had been in the military for five years when the war in the Middle East started. He'd survived his first tour in Afghanistan and earned a Purple Heart for taking one in the arm. After that he'd weathered several tours of duty in Iraq, one of which included the destruction of his Humvee while he was still inside. That injury had won him his second Purple. And he had a bronze star on top of that for rescuing three ambushed grunts from his unit and nearly getting killed in the process. After all that, here he was, dying fast in his cheaply paneled den in Ohio's Rust belt.
His goal was simple: just hang on until Christmas. He sucked greedily on the oxygen coming from the line in his nose. The converter that stayed in the corner of the small room was on maximum production, and Jack knew that one day soon it would be turned off because he'd be dead. Before Thanksgiving he was certain he could last another month. Now Jack was not sure he could make another day.
But he would.
I have to.
In high school the six‑foot‑two, good‑looking Jack had varsity lettered in three sports, quarterbacked the football team, and had his pick of the ladies. But from the first time he'd seen Elizabeth "Lizzie" O'Toole, it was all over for him in the falling‑in‑love department. His heart had been won perhaps even before he quite realized it. His mouth curled into a smile at the memory of seeing her for the first time. Her family had come from South Carolina. Jack had often wondered why the O'Tooles had moved to Cleveland, where there was no ocean, a lot less sun, a lot more snow and ice, and not a palm tree in sight. Later, he'd learned it was because of a job change for Lizzie's father.
She'd come into class that first day, tall, with long auburn hair and vibrant green eyes, her face already mature and lovely. They had started going together in high school and had never been separated since, except long enough for Jack to fight in two wars.
"Jack; Jack honey?"
Lizzie was crouched down in front of him. In her hand was a syringe. She was still beautiful, though her looks had taken on a fragile edge. There were dark circles under her eyes and recently stamped worry lines on her face. The glow had gone from her skin, and her body was harder, less supple than it had been. Jack was the one dying, but in a way she was too.
"It's time for your pain meds."
He nodded, and she shot the drugs directly into an access line cut right below his collarbone.
***
Want the rest of the first chapter of David Baldacci's One Summer? Click Here! You can read the entire story when the book hits stores on June 14, 2011.