Extended Excerpt: Eve Edwards' The Other Countess — With Giveaway!
Tue, 06/28/2011 - 1:54pm — admin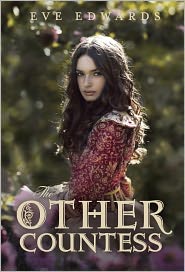 Eve Edwards' historical YA series starter The Other Countess is an RT Top Pick! Reviewer Raven Heller says of the story, "I stayed up way too late to finish this one — but it was so worth it!" Last week readers got a look at the first few chapters of the story and the author gave away advance reader copies of The Other Countess. Congratulations to last week's winners and we are thrilled to announce that this week one more reader will win an ARC of the story and everyone will get a chance to read the second chapter of the story!
Will watched her go with regret. His attraction to the dark-haired lady with her execrable embroidery had taken him by surprise. She'd been laughing at his brothers—that was what had done it. Her eyes had sparkled with humor, her smiling lips just begging for a kiss.
Will sighed. He was here on serious business and could not afford to be distracted.
James scratched his chest and yawned. "Who was she, Will?"
"I'm not entirely sure. A connection of Mountjoy's."
"Money?"
Will shrugged.
"Oh well, with our luck she'll be either already taken or penniless," James said philosophically.
"She's lovely, like a spring morning."
James gave a mock shudder. "Spare us—write her the sonnet, but don't try it out on me."
Will rubbed his close-trimmed beard. He was rather proud that he was now of an age where he could sport one. "I think she might like a poem. She had ink on her fingers.
Want more? For the complete second chapter of The Other Countess, click here. And then enter to win your own copy of The Other Countess  below!
GIVEAWAY ALERT: One lucky reader will win a copy of The Other Countes before it hits shelves July 12. To enter tell us what era in history you'd most like to travel back to. Or you can email your comment here with your name, US mailing address and the subject line "Eve Edwards The Other Countess Giveaway." The winner will be announced next Tuesday July 5!
Read the first chapter and the prologue >>
BLOG UPDATE 7/5/2011: And the winner is ... Asura C.