Extended Excerpt: The Third Chapter Of Eve Edwards' The Other Countess — With Giveaway!
Tue, 07/05/2011 - 10:07am — admin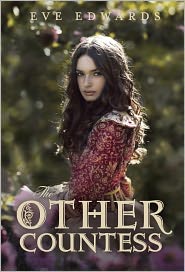 Debut author Eve Edwards returns this week to give readers one final peek inside of The Other Countess and a final chance to win an advance reader copy of the book before it is in stores. You've already read the prologue, chapter one and chapter two, now you can take a taste of chapter three and then enter to win The Other Countess below!
Lady Jane Perceval stood in front of the mottled glass in her chamber and surveyed her reflection critically. She adjusted the bodice on the tight stomacher of ivory damask to push her breasts up higher. Humming in disapproval as a small pox mark showed on the swelling mound, she dabbed her skin with ceruse, a paste of vinegar and white lead, ensuring all visible areas of skin were flawless white. Her honey-brown hair was looped over her ears and caught up in a pearl-edged headdress. Her lips were fashionably reddened by cochineal dye.
"Well?" She spun before her maid.
"You look very beautiful, mistress," Nell replied, knowing that failure to praise might result in a box on the ear. "You will be the loveliest lady at court. As fresh as a flower."
Jane bit her lip, trying to feel as confident as her maid. She had many people to face down that evening. Her father's lavish gift of a wardrobe for her appearance at court might have made her look as beautiful as a rosebud waiting to be gathered by some rich suitor, but she couldn't forget that she had already been plucked. Tweaking her bodice even lower, she comforted herself with the thought that though virginity was supposedly prized at court, few expected it these days in any but the Queen.
Want more of The Other Countess? You can read the entire Chapter Three here, enter to win your own copy below and then check back next week when we announce this week's winner and sit down with the author for an interview and one final giveaway!
GIVEAWAY ALERT: One lucky reader will win an Advance Reader Copy of The Other Countess! To enter tell us what you love about historical heroes. Or email your comment here with your name, US mailing address and the subject line "Eve Edwards' The Other Countess Giveaway." The winners will be announced on July 12.
Read Prologue and Chapter One >>
BLOG UPDATE 7/12/2011: And the winner is ... JenLL2011