Extended Review — Hard Time By Cara McKenna
Fri, 04/18/2014 - 1:26pm — admin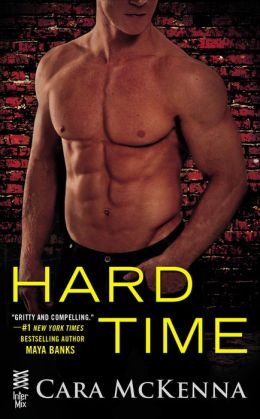 When I read the blurb for Hard Time by Cara McKenna I thought to myself: this book will either be completely amazing or an absolute train wreck. Luckily for me, it was the former. Told in first person, the story follows young public librarian Annie Goodhouse, who recently graduated with her MLS and has taken a position as an outreach librarian for a medium-security correctional facility, where she finds herself attracted to inmate Eric Collier. With such sensitive subject matter, which could have been handled carelessly, you can see why I thought this book might be a disaster. But McKenna does not sensationalize prison or the relationships male inmates can have with women on the outside. What impressed me most about this novel is how the author approached the subject matter so skillfully.
Annie is, rightfully so, nervous about working in a prison and is incredibly careful not to show any obvious signs she's attracted to Eric while she's in the facility. When Eric starts sneaking her incredibly erotic love letters, she's worried about how to respond, and actually screws it up initially by sneaking a love letter back, instead of just mailing it from a different name. Annie isn't a woman who gets off writing letters to inmates, she has absolutely no idea what she's doing and is completely freaked out by the idea of being attracted to a felon. She makes her expectations and intent known before she even sees Eric:
"I'd read too many cautionary tales recently about female guards and prisoners' girlfriends who got sweet-talked by charismatic cons into smuggling drugs, drawn in too gradually, too deep, until their families were being threatened by the criminals' buddies on the outside. I'd also been staying up far too late, watching far too much Dateline ... I wasn't some lonely woman using the prison pen-pal system as a dating service."
So pretty much up front, McKenna makes it clear that this isn't that kind of story. As someone who experienced domestic abuse in her last relationship, Annie is extremely cautious about her feelings for Eric. She doesn't want to know why he's in prison and doesn't want to get too close, terrified that he may have hurt a woman. But before she can really make sense of her feelings, she's already wrapped up in a hot-and-heavy love letter exchange with Eric. And these letters, oh boy. Hot would be an understatement. But they're also sweet and show how concerned Eric is about not getting Annie in trouble for breaking prison rules. There's also a bit of power play involved — Eric instructs Annie to wear a different color next week if she wants him to keep writing her (otherwise, he promises to stop). This continues throughout their physical relationship, too, but doesn't evolve into any sort of D/s relationship (which is a good thing, that would have been too much with this story).
Upon Eric's release, Annie decides she cannot have a real relationship with him after he flat-out refuses to tell her the details of what got him sent behind bars. But when they run into each other outside her library, one thing leads to another and she realizes that yes, she would like to have the smoldering sex they wrote about in their letters. I absolutely loved Eric's eagerness to please Annie in just about every way possible, but he doesn't see her as a means to better himself:
"'I don't want you to think that I see you as this perfect white handkerchief that I think I can use to, like, clean away the badness from myself. Because that's how so many guys like me would see you. As some angel that'll fix their sins. That's not how I see you at all. That's not why I want you, or want to feel like I'm worthy of you. I just want to be the kind of man who deserves to feel what you make me feel, instead of just settling for whatever's available, the way people do back home.'"
As their relationship evolves, and Annie grapples with Eric's stubborn nature and complicated family. Overall, I really loved this story. It was my first McKenna novel and made me want to read more of her work. I'd recommend it to anyone looking for a contemporary romance with a kind-hearted hero and a complex sexual dynamic.
You can download a copy of Hard Time, available now in digital formats. For more love stories visit our Everything Romance page.