Extended Review: Afterburn/Aftershock by Sylvia Day
Mon, 04/07/2014 - 1:10pm — admin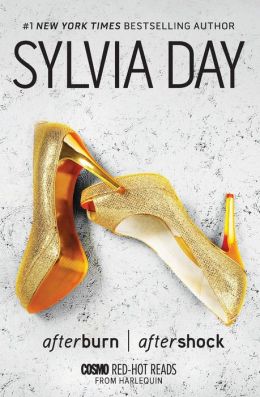 Six months ago I had the pleasure of interviewing Sylvia Day about her novella "Afterburn," the debut book for Harlequin's new Cosmo Red Hot Reads imprint. I loved "Afterburn." In true Sylvia Day fashion, the book is filled with sleek settings, hot men, smart women and steamy sex scenes. "Afterburn" and its sequel novella "Aftershock," previously only available as separate e-books, are now on sale together in one print edition containing both stories — Afterburn/Aftershock. 
"Afterburn" introduces readers to Gianna (Gia) Rossi. Gia's family has been in the restaurant business for three generations, and as a recent college graduate, Gia seeks to work under mega successful restaurateur Lei Yeung, with hopes of becoming her protégé. Gia gets the job with Lei and is tasked with being point person on a project involving signing twin celebrity chefs, Chad and Stacy, to work as dueling chefs at a restaurant Lei is developing as part of a multimillion-dollar deal. This is more than just business for Lei. It's an act of revenge against her former lover, Ian Pembry, who once burned her in a huge business deal. Stacy and Chad are chefs he is trying to sign, and Lei wants to steal them from him.  Just when Gia and Lei think they have the deal sealed, Ian breezes into town along with Gia's ex, Jax Rutledge.
This is where things get interesting. We soon learn that Jax is part of a political family that is sort of a conservative version of the Kennedy family. He and Gia had a steamy affair when she was attending college in Las Vegas. She fell in love with him and just when she thought he loved her too, he stopped calling her and basically disappeared off the face of the earth.  Now Jax is back and he's doing business with Ian Pembry, which essentially makes Jax Gia's enemy. Jax wants to pick up things with Gia where they left off (typical), but will Gia risk her job and sleep with the enemy — who broke her heart once upon a time?
I love Gia. She's smart, independent and not quick to jump back into bed with Jax. But who am I kidding? I think we all know there are major sexy times in this book for Gia! And that's a good thing, because a Sylvia Day sex scene is always scorching hot!
Jax has many of the trademark attributes of a Sylvia Day Alpha Male. Smoking hot? Check. Super rich? Check. Obsessive about Gia? Check. For the record, I love all of my book boyfriends to be hot, rich and obsessive. So, I think Jax is pretty dreamy.
"Afterburn" sets up a professional and personal struggle for Gia. How can she love a man who has actively sabotaged part of her business deal? Should she let a man who coldly dropped her once back into her life? "Afterburn" ends with Gia determined to find out about Jax Rutledge's past and what made him the way he is, while simultaneously making sure she successfully secures the business deal for Lei.
"Aftershock," the second of the two novellas, was my favorite because we finally learn why Jax is scared to publicly date Gia and bring her into his family, a major political powerhouse. 
Gia spends a huge chunk of "Aftershock" learning about the Rutledge family political machine, as she not only begins dating Jax publicly, but living with him as well. We also get to see how Gia's business deal plays out with a couple of surprise moves from Jax thrown into the mix.
One thing I appreciated about Gia is that Sylvia Day did not write her as a perfect heroine. She has flaws and majorly screws things up with Jax at one point in the book. Yes, there are awesome, hot sex scenes throughout both novellas, but Jax and Gia eventually get to the point where they talk out their issues like any other couple. Though Jax does pull a surprise disappearing act towards the end of "Aftershock" that will keep readers guessing until the very last scene of the novella.
I definitely recommend Afterburn/Aftershock to readers who love erotic romance with a hot Alpha Male and an independent heroine. Sylvia Day has once again delivered an intriguing cast of characters who will leave readers wanting more!
What did you think of Afterburn/Aftershock? Let me know in the comments! When I'm not writing and reviewing for RT, you can find me at MandyBoles.com.