Extended Review: Collide by Megan Hart
Wed, 06/22/2011 - 11:02am — admin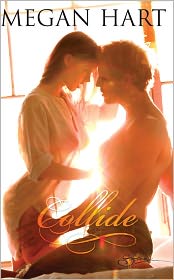 Megan Hart's new erotic romance, Collide, got 4 stars from RT reviewer Andrew Shaffer in the July issue of RT BOOK REVIEWS. Today Shaffer re-visits his Collide review to share an in-depth look at why readers will connect with this new sizzling story! 
Emm Moser suffers from "fugue states" – seizure-like blackouts that cause her to hallucinate, the result of a childhood accident. As an adult, Emm meets Johnny Dellasandro, a hot-as-sin painter who starred in a series of raunchy films in the '70s, at a local coffee shop. Emm is almost thirty years younger than Johnny, but, during her fugue states, she hallucinates vivid encounters between herself and a much-younger Johnny in 1970s New York City.
While Johnny seemingly ignores her advances in the present day, the Johnny of her dreams can't keep his hands off of her. The dream sequences are a great excuse to spice up the story with hot, unencumbered sex, which Hart excels at writing.
Besides slipping unconscious and slipping under the covers with Johnny (in her fugue states), Emm's life consists of gossiping with her best friend at a coffee shop and chatting with her mother on the phone. The story really starts moving when Emm and Johnny finally "collide" in the present day.
While I'm sure some readers will be skeptical of a romantic hero who is nearly twice the heroine's age, all I can say is that, in the context of Hart's story, it works. Johnny's not some creepy old dude preying on young women – in fact, if anyone is being a creeper, it's Emm:
He might be the same age as my parents, but I had no trouble imagining him as a lover. I knew he was "too old" for me. My head knew it. My body was another matter. . . . I wondered how it would sound if he said my name? I wanted to undress him. Strip away the long black coat, the scarf. To unzip and unbutton his pants and slide them down those long, muscled thighs. I wanted to kneel in front of him and – [well, you get the idea]
I was touched by Hart's portrayal of life with a seizure disability. Epilepsy, like most disabilities, occurs with much greater frequency in real life than in popular culture: In America, 45,000 children under the age of fifteen develop epilepsy every year; ten percent of the total population will experience a seizure at some point in their lives. Full disclosure: Like Emm, I developed a seizure disorder for a time following a childhood brain injury (although I didn't have vivid wet dreams co-starring 1970s actors). So I might be biased. But ask yourself: When was the last time you read a romance or erotic novel featuring a hero or heroine with any type of disability?
Hart drops hints throughout Collide that keep the reader guessing what parts (if any) of Emm's hallucinations are real. I don't think it's giving too much away to say that the narrative structure has more in common with books such as The Time Traveler's Wife or television series like Dr. Who than with most Harlequin Spice books. The "is-it-or-isn't-it-paranormal" question, however, is one of the book's central conflicts, and the answer to that question may divide readers' opinions.
Smart, funny, and highly sensual, Collide is a roller-coaster ride that's as emotional as it is unconventional.
- Andrew Shaffer
You can pick up your own copy of Collide in stores now!