Extended Review: Kristen Ashley's Jagged — Warning, Mild Spoilers
Mon, 11/04/2013 - 1:40pm — admin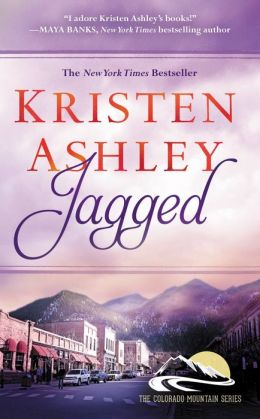 Being a reviewer for RT means you get to read a lot, inside and outside your comfort zone. Today reviewer Marie Bongiorno tackles her first Kristen Ashley — Jagged — and we made her report back in depth. Beware of mild spoilers below, okay? 
If you've ever accessed the internet, you've probably heard of Kristen Ashley — or KA, as she's known to her fans — the über-popular romance author who writes mega alpha heroes. I was intrigued, but also trepidatious, because while I enjoy a hero who takes charge, I don't go in much for machismo.
But when Jagged, KA's latest in her Colorado Mountain series, came up for review, I was curious enough to take a chance.
Jagged is the story of Zara and Reece. They had an on-again, off-again thing for years. Zara broke it off, knowing Reece couldn't commit, and married another man. Things didn't work out, and when the book opens, she's down on her luck big time, having lost her business and her home.
Right off, I got the appeal of Jagged and KA's writing, because it is pure wish fulfillment. We've all either had Zara as a friend or we've been her ourselves, in a relationship where we want much more than the other person will give. The on-again and off-again for years. The justifications to your friends. The tears over drinks. And finally, the break up, which isn't really a breakup because you weren't ever actually together in the first place.
But in Jagged, Reece — or Ham, as Zara calls him — comes back to town and makes everything right. He's had a brush with death, and he's seen the light. (Why has this never happened to any of my exes?!) Now on the straight and narrow, he does everything he's supposed to. He takes Zara in, he gets her a job and he waits, patiently, for his woman to come back to him.
And this was the part of Jagged that I especially enjoyed. Reece is alpha, yes. He takes charge, sure. He drives a motorcycle, and KA spends more than one passage lovingly describing how huge he is, a pure beast of a man. But Zara stands her own with him. He doesn't rule the whole relationship. Sure, he vaults over the bar to help her, but he also listens to her, and takes her needs into consideration.
Jagged is also interesting in that it's almost a book in two parts, the first is about Zara and Ham mending their relationship and the second is about some significant family drama that I don't want to spoil. It was interesting from a romance perspective, in that you really get to see the couple interact together as a unit, almost in an epilogue fashion, except there's still real plot happening.
All in all, my first visit to Kristen Ashley's world was a great success. I'll be stopping by again soon.
- Marie Bongiorno
Have you read Jagged? It's available at e-tailers everywhere today! What did you think? What's your favorite KA title? Sound off below!