Extended Review: A Little Too Far By Lisa Desrochers
Wed, 11/06/2013 - 9:58am — admin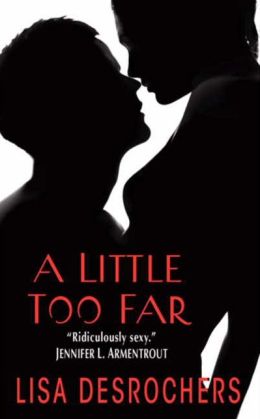 I have been bitten by the New Adult bug — and its name is A Little Too Far by Lisa Desrochers. I now know what NA readers mean when they say "this book is crack," because, you guys, this book is crack. It normally takes me five to seven days to read a book (hey, I'm a slow reader), but I finished this one in two. RT's features editor, Mala, finished the book in an afternoon after I insisted everyone read it (believe it or not, there are some people who don't want to read about stepbrother sex).
Let me back up for a minute: yes, stepbrother sex. In the beginning of the book, Lexie's boyfriend of several years dumps her and she goes running into the arms of her stepbrother and best friend, Trent. Their parents married when they were in their early teens, which slightly removes some of the ick factor. She knows she's loved Trent for a long time, but realizes that love is changing from familial to something more. Days after they do the deed, she's whisked off to Italy for a year of studying abroad.
Let me pause here and stress that Lexie understands it's not socially acceptable to sleep with her stepbrother. She feels guilty, knows it's gross, and is completely weirded out by the whole thing, which is why she's thankful to have a continent separating them both. There's a whole lot of awkward between Trent and Lexie, and distance helps, but while they do talk about it a little before she departs, there's plenty of texting and phone calls to add to the awkwardness, while also making it painfully obvious that there are still unexplored feelings between the two. I know some readers might not be down with most of Lexie and Trent's communication in the book being digital and not in person, but as someone who just graduated from "New Adult" to "adult" in terms of age, I can say that texts and emails are perfectly legitimate forms of communication, and I know you all will agree with me when I say written words can carry a lot of emotion. Plus, due to the nature of Trent and Lexie's questionable relationship, some distance is necessary.
Cue Alessandro, the sexy, Italian deacon Lexie meets when she visits a church to confess her sins (Lexie isn't a particularly religious person, but she's willing to do just about anything to rid herself of the stepbrother sex guilt). If you've listened to me blab about books before, you know I love (and I mean seriously LOVE) Tiffany Reisz's Original Sinners series, specifically sexy priest hero Søren. So when I heard there was a sexy priest in A Little Too Far, I bought it before I could blink. If you want me to read a book, put a sexy priest in it.
Lexie and Alessandro's relationship skirts the boundaries of taboo for most of the book, with a lot of harmless flirting that starts getting heavier as the book progresses. And because Alessandro hasn't been ordained (although he has taken his vow of chastity), Lexie feels slightly less horrible about thinking about doing dirty deeds with the deacon. Alessandro is incredibly patient, sweet and encourages Lexie in her studies. He's awesome, basically. I don't want to reveal any spoilers about what happens between him and Lexie or Lexie and Trent, but it's somewhat obvious from the start.
Overall, this book was a ton of fun. If you're curious, it's on sale for $1.99 on Amazon, B&N, Kobo, and iTunes right now. Read it and lemme know what you think!
Have you read A Little Too Far already? Share your thoughts in the comments! For more new adult, visit our Everything Young Adult page.