Extended Review: N.J. Walters' Damek's Redemption
Wed, 09/18/2013 - 11:53am — admin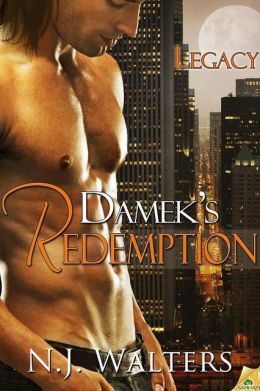 There are times when I feel like every book I review is really like a diary entry and I'm sharing my feels with all our readers. Including my secret never-pass-up tropes. For instance, I will never pass up a coma story. Or an amnesia story. But mostly, I will never pass up a broken, angsty vampire. Ever.
I know what you're saying. "Cyndy, vampires are so over." But here's the thing: They never really are, though. We've been obsessed with sexy vampires doing their thing since at least 1871 when J. Le Fanu's Carmilla brought us its titular hot lesbian vampire. 
So when N.J. Walters brings her werewolf series around to the standoffish vampire, Damek, I was intrigued.
Call me crazy, but all romantic vampires are judged against an ideal: not Bram Stoker's Dracula, not Anne Rice's Lestat, but rather, Nora Robert's Cian from her novel Valley of Silence. Cian is my vampire model: alpha male without crossing over into abusive, full of angst and loneliness in an eternity in which he loses anyone he might love — and incredibly sexy when he finally loses his hard-fought control and falls for the heroine.
Damek could be Cian's brother. Readers of the Legacy series will already be familiar with him, as he's come to the aid of the werewolves before, most recently in the series' fifth book, Finding Chrissten.
Before Damek's Redemption, we saw a vampire who kept to himself, keeping his involvement to a minimum and returning to his solitary existence whenever the trouble has passed. Enter Sonia Agostino, a scholar who can't resist the idea of getting to know a vampire as old as Damek. Where most would be afraid and go running at the first sign of danger, Sonia digs her heels in, working her way past Damek's defenses and bringing him out of the shadows until he's front and center in midst of the action.
Even when his interactions with Sonia bring hunters to his doorstep, who'd like nothing more than to end the existence of a vampire as old and powerful as he is, Damek finds he can't resist her, the first person who's brought him true companionship in ages. You can't help but feel that little dip of your heart and stomach when he finally gives in and lets himself fall.
Best of all, the chemistry between the characters is downright combustible. Walters makes you feel every single emotion in such a visceral way that you can't help but feel like you're right in the book, alongside her characters. Both Damek and Sonia seem so real you'll feel like you're leaving them behind at the end of the book. 
You can get a copy of Damek's Redemption — available in print and e-book formats — now! For more vamp-y heroes, visit our Everything Paranormal & Urban Fantasy page.