Extended Review: Nora Roberts' Chasing Fire - With Giveaway
Fri, 03/25/2011 - 8:29pm — admin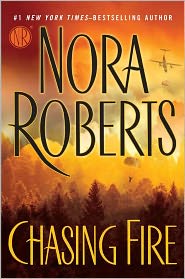 I grew up near Missoula, Montana where Nora Roberts' April book, Chasing Fire is set. Chasing Fire follows heroine Rowan Tripp, a smoke jumper who parachutes into forests to put out fires. While I have never met a female smoke jumper, when I was in my teens my cousin dated a man who fought forest fires during the summers. And I am happy to report that almost everything in Roberts' book matches what I know about smoke jumping.
Like in all of her books, Roberts fills Chasing Fire with details that really brings the story's world to life. She shows how smoke jumping is a high stress, physical career where one mistake can mean death. Smoke jumpers have to carry everything they need when they head into a blaze: food, drink, equipment for putting out the fire, sleeping bags and they cannot go home until the fire is out. This can mean days or even weeks of digging, spraying, clearing bush and sometimes running from certain death. The isolation of the areas where they fight fires means that if a smoke jumper, or a team of smoke jumpers, gets stuck, they are often too far away to receive outside help. Roberts really makes the smoke jumpers' experiences multi-dimensional with firefighting lingo and such vivid scenes that readers will be able to feel the heat on their faces and smell burnt trees. 
After reading Chasing Fire, I feel like I've gotten close enough to forest fires to last a lifetime. And let me tell you, this is definitely not a job that I would willingly sign up for. I hate the idea of working under such challenging and dangerous conditions. But heroine Rowan can't get enough. She is an absolute junkie and it's hard to imagine her doing anything else. Rowan explains herself as having "A mean temper, a low bullshit threshold and a passion for catching fire." So if you are looking for a Barbie Doll, then this is not the heroine for you. In fact, Rowan is almost masculine in the way she treats others. She tends to keep people at arm's length and can be emotionally distant.
On the other hand, Gulliver, the hero, is very tapped into the feelings and needs of the people around him. Gulliver is in Montana trying out to join Rowan's fire crew. After proving himself pretty much the first day, he is offered a position as a smoke jumper. (Not that there is any doubt that Gulliver will get the job - he succeeds at everything he attempts.) Gulliver is strong, handsome, wealthy, smart, respectful, can kiss, has a great car and wants to cuddle after sex. And unlike Rowan, he is very, very romantic. There's a touching scene in the story when he lays his feelings on the line for her.
"I care about you, Rowan. The you who's got a laugh like an Old West saloon girl, the you who picks out constellations in the night sky and smells like peaches. I care about that woman as much as I do the fearless, smart, tireless one who puts her life on the line every time the siren goes off."
But while Gulliver appears to be just about perfect, his relationship with Rowan is weighed down by her issues. This is a trend I've been noticing lately in Roberts' romantic suspenses - the women characters are the ones with serious hang-ups. While the heroine has lots of flaws that add up to a real person, the hero tends to be a bit too perfect for my liking. In Chasing Fire, Rowan drinks hard, works hard, fights hard and swears up a storm, while Gulliver stays the same - unflappable and seemingly flawless.
Fortunately, cracks do eventually appear in Gulliver's armor when the suspense elements in the story start in earnest. When the crazy lady that is running around vandalizing the smoke jumper's equipment targets Rowan, Gulliver's laid-back attitude is finally shaken off and his protective inner self is revealed. While his and Rowan's amateur sleuthing can get to be a bit much, especially around the time that burned bodies start to turn up in the forest, it is great to read about how a Nora Roberts' couple is works together to support and protect each other. As with most of Nora Roberts books, Chasing Fire is a keeper.
GIVEAWAY ALERT: One lucky winner will receive an Advanced Reader Copy of Chasing Fire. To enter leave a comment about why you'd love (or hate) to be a smoke jumper. Or email your comment here with your name and US mailing address. The winner will be announced on April 1st.
And be sure to look for Nora Roberts' new romantic suspense novel, Chasing Fire, when this RT Top Pick releases April 12th. 
BLOG UPDATE 4/1/2011: And the winner is ... Wildmab!