Extended Review: Perfect Ruin by Lauren DeStefano
Tue, 10/01/2013 - 1:32pm — admin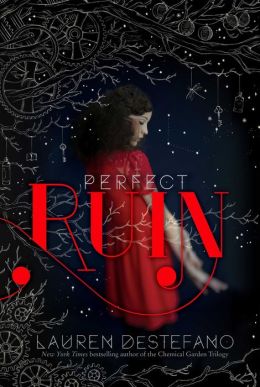 Lauren DeStefano's Perfect Ruin is exquisite. With its story of free will, love and the power of dreaming beyond one's boundaries, it's every bit as captivating as it is courageous. Intelligently written and thought provoking, it's the start of yet another astounding series from DeStefano.
Sixteen-year-old Morgan Stockhour knows better than to dream of life outside the confines of Internment, the floating island she calls home. Life is perfect on Interment — at least that's what the people have come to believe. But when a girl's body is found, marking the first murder in years, Internment no longer feels safe. Morgan is hungry for answers and for the possibilities that lie beyond the island. With her best friend and her betrothed at her side, Morgan will dive deeper into Interment's secrets. But is she prepared for everything she may lose along the way?
Set in a society where everything is seemingly perfect, Perfect Ruin is more utopian than dystopian — much like The Giver by Lois Lowry. This offers a refreshing take on the futuristic trope, and allows for a more believable setting. The author has skillfully crafted her world with intricate details that she reveals at all the right moments. There always seems to be something still to be uncovered, making for an exciting read throughout. DeStefano's writing as a whole is thoughtful and lyrical, and everything from the dialogue to the descriptions is perfectly executed. She unravels the plot at an even pace, and although the last portion slows and becomes a bit expected, I still continued reading with interest and excitement.
While the worldbuilding is unique and strong, the characters are even more so, every one of them believable and relatable. Main character Morgan may not be physically strong like Katniss from the Hunger Games or Tris from the Divergent trilogy, but she is brave, curious and incredibly observant. I connected with her more than I expected to, and can't wait to see how she grows as the series continues. Pen, Morgan's best friend, provides some comic relief with her sharp tongue, and I love the sisterly bond between them, and that the author maintained this relationship throughout the book.
The other character I loved? Basil, Morgan's betrothed. Despite being paired by the government, they truly love each other, and their relationship seems rooted in friendship, which is refreshing and believable. The way he understands Morgan's curiosity for life outside of Internment is endearing and honest, and I hope we get to learn more about him in the next book. What I want to know most is: Can I have a Basil of my own?
Last, but not least, each chapter heading contains snippets from an essay that reveals another important character's thoughts about Internment and life on the island. Like the rest of the book, the snippets are beautifully written and add yet another dimension to the world and the set of beliefs already established.
Overall, Perfect Ruin is a triumph, the kind of book that other writers wish they wrote, and readers wish they could live. DeStefano has displayed yet another level of her brilliance and I can't wait for book two. If you read only one book this year, make sure it's Perfect Ruin!
If you're ready to fall in love with DeStefano's new book, too, then pick up your copy in-stores or online today! For more young adult buzz, visit our Everything Young Adult Page!