Extended Review: The Principle of Desire by Delphine Dryden
Mon, 12/09/2013 - 3:17pm — admin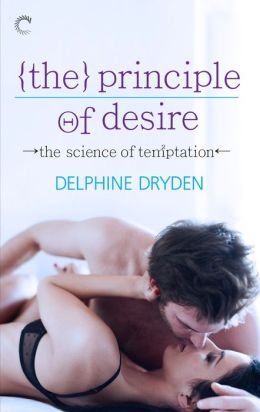 My official RT review for Delphine Dryden's "The Principle of Desire" appears in the February 2014 issue of the magazine, which means it won't be available online until mid-month, but the book releases today and I can tell you right now, I absolutely adored it.
Out of the three novellas in Dryden's Science of Temptation series, this one by far is my favorite. And if you know my reading habits at all, you won't be surprised. This story contains so many things I love reading about, especially in erotic romance: BDSM, a strong heroine on which the story is primarily focused and an asshole ex you love to hate.
For those who like their erotica hero-centric (which I know many people do, I'm the odd woman out here), this one might not be your cup of tea because it mainly focuses on heroine Beth and her transformation, while hero Ed experiences less dramatic growth, although he does learn more about himself and discovers new things he never thought he'd enjoy.
Beth is a submissive-turned-dominant who still enjoys both roles, AKA a switch, but when we meet her she's a practicing domme. She was submissive with her most recent ex, Aaron, who is the most wonderful jab at the Asshole Doms so many readers seem to love in BDSM fiction (and, I'm sure, in real life too). He's traditionally good looking with strong features and an exotic, yet accessible, South African accent and he is such a disrespectful jerk. And not in an annoyingly sexy sort of way. In more of a "I don't respect your wishes and desires, or you as a human being, really, and I just want to get my rocks off" sort of way.
So Beth has done and rid herself of this horrible partner, and she meets nerdy, awkward Ed, whose friends (that we've met in previous stories) are already involved in the same local BDSM community as Beth. Poor Ed just wants to find his missing cell phone, which ends up at the club with one of his friends after a party. Ed doesn't plan on staying long, but Beth's ex has shown up after being abroad and she needs a man to take a public beating so she can show Aaron she's a serious domme. Ed is obviously hesitant, but obliges because a really hot girl wants to do kinky things to him.
Ed and Beth get to know each other, and Beth can't for the life of her figure out why she's falling for Ed (he's kind of hairy and doesn't have visible abs), but she is, and Ed is so obviously head-over-heels for her. It's adorable, and the sex scenes between the two are so fun and playful. Rather than being a passively compliant sub, Ed is curious, and eventually eager, to try new things. Most importantly, Ed and Beth's sexual relationship is so normal. It's not some dark, soapy fantasy involving contracts and secret dungeons and feelings that seem hesitant because you don't actually know if you want this person you recently met to blindfold you and chain you to a wall.
Of course, just as Beth and Ed are getting comfy in their new not-quite-a-relationship, an accident happens and Beth feels compelled to rush to Aaron's side because she feels sorry him. I don't really want to say any more, but I love how Ed responds to this situation. He's starting to fall in love with Beth, but he has a lot of self-respect, too.
This story is not a Perfect Romance Novel(la) — but it's one that had me nearly shaking with glee when I finished it. I really, truly loved this story. If you feel like you and I might be book twins, or you're looking for more erotica with a sexually dominant heroine, you must read "The Principle of Desire"!
You can buy "The Principle of Desire" here for only $2.69 (it's $2.99 on Amazon  at B&N at the moment). For more steamy love stories visit our Everything Erotica Page.