Extended Review: The Raft by S.A. Bodeen
Wed, 08/29/2012 - 10:08am — admin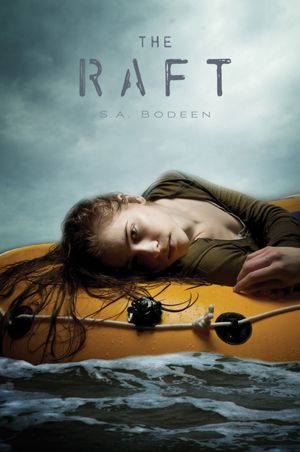 Feeling overwhelmed by the abundance of recently released young adult novels and looking for a relatable young protagonist? RT reviewer Ellen Parsons believes she has found the character for you in the pages of S.A. Bodeen's The Raft. Heroine Robie Mitchell is an everyday sort of girl who finds herself in the most challenging of predicaments - and that's putting it lightly. When Robie's plane goes down, she is forced to cling to the one thing keeping from a watery grave: a raft. But as the days drift on with no hope of rescue in sight, it isn't only her life she fears losing. It's her mind. Read on to discover why Parsons found this character and story so compelling.
I love YA, despite being a number of years out of the target age range, and I have a high tolerance for some of the sillier aspects of the genre — I'll swoon over every one of the endless bad boys, pick a team in hundreds of love triangles, and ignore any number of unconvincingly absentee parents. But there is one thing that's getting a bit tired. Do you ever get the feeling you're reading the same female protagonist over and over? Pick your poison: maybe she's the "kick-ass female" who's prickly to the point of rudeness. Maybe she's "just like you" — a little nerdy and not the most popular girl in school, but, unlike you, not for long! Or perhaps your novel is populated by the "beautiful but doesn't know it" lead — she'll be an effortless size 2 and gorgeous without make-up, but oh-so-modest.
One of the reasons I love The Raft so much is because the main character Robie Mitchell breaks the mold. She's the homeschooled daughter of two marine biologists. She doesn't have any friends her own age, she can't get Internet or cell service on the tiny Hawaiian island where she lives with her parents, and her idea of a wild night out is going to Cheesecake Factory with her aunt. So when Robie gets stranded on a survival raft after a plane crash, floating aimlessly in the Pacific Ocean, I don't mind spending 200 pages in her head. In fact, she's fascinating. Robie has picked up an enormous fount of environmental knowledge during her teenage isolation. She genuinely cares about animal welfare and environmental sustainability, and she imparts her knowledge to the reader is a way that's interesting, not heavy-handed or preachy.
The really amazing thing about Robie, though, is that she's not really "all there." As the novel progresses, the reader becomes aware that Robie's mental state is deteriorating. She shouldn't remain relatable in this capacity, but somehow she does.
Survival stories can be boring—there are only so many different ways to tell readers that their narrator is hungry, and thirsty, and sunburned. But The Raft is anything but. You'll love Robie, and you'll be invested in her well-being from beginning to end. If you're looking for something a little different to read this summer, something with a bit more to chew on, The Raft is an excellent choice.
- Ellen Parson
What do you look for in your YA reads? Do you, like RT reviewer Ellen Parsons, look for a relatable protagonist? Or is there something else that catches your fancy — non-stop action, a bit (or bite) of the paranormal, teenagers in dystopian settings? Let us know in the comments below. For more fantastic YA stories, visit our Everything Young Adult Page.