Extended Review: Slow Surrender By Cecilia Tan
Tue, 08/13/2013 - 10:36am — admin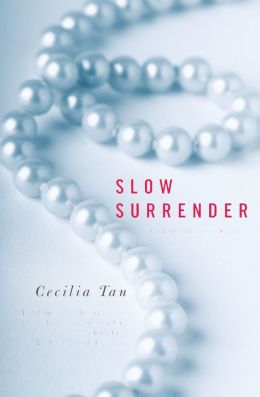 Let's be honest. The billionaire Dom trope is getting a little old hat. While the idea of the ultimate alpha male with both money and sex toys to spare is a fantasy a lot of us enjoy, there are only so many ways to tell this story: innocent ingenue meets rich guy who's concealing a secret. He lures her in. He introduces her to BDSM. They fall in love over the course of (ideally) a three-or-more-book series. They live happily ever after.
At first glance, Cecilia Tan's Slow Surrender is more of the same. It's the first in an announced three-book series. The heroine, Karina, is a waitress, who meets the Dom hero when she waits on his table. He introduces her to the world of BDSM. He has a secret that he's definitely not about to share with her.
What makes this one different, though? 
For one, Karina is no blushing ingenue. Finally — finally! — we're given a heroine who's willing to go along on this adventure, and without the Nervous Nellie nail-biting and hair-twirling the genre seems to be plagued with. From the second she meets James, she's sexually attracted to him, intrigued by him and best of all, she owns that about herself. There may be some second-guessing about the things he asks her to do without explanation, but she wants to know what comes next, and is willing to follow his lead to get there.
As for James, he escapes the confines of the controlling Dom construct that has so many of these "heroes" veering from Domination into downright abuse. At each step in their developing relationship, James gives Karina an out. He wants her to want this as much as he does. Tan has created a Dom hero who trains his new sub in a slow but steadily escalating manner. In other words, they don't go from meeting to Karina tied up in his dungeon in no more than a few pages. WHAT IS THIS SORCERY?
So now we have three basic tropes already turned on their collective heads: The blushing virgin sub is gone, the abusive Dom is gone, and now we have a slow progression of a BDSM relationship.
So you're probably wondering what his big secret is, and why he's so unwilling to give Karina his real name. Is he the secret owner of some underground sex club, violating laws at every turn? Did he have a childhood fraught with abuse and neglect, and the only way he can deal with it is through his deviant sexual nature?
Without spoiling the story, I can assure you that it's none of the above, and his secret, while fairly easy to guess, is one that doesn't reek of melodrama or create an "excuse" for getting his kink on.
So we have two mature, kinky individuals with no excess baggage, no need to explain away or justify or — worst of all — "cure" themselves through this relationship. But how is the sex?
There are books that have a great set-up and wonderful interactions between characters only to fall flat once they get to the down and dirty. In the magazine review of this title, I refer to the book as a fever dream, and that's the best way to describe the sex. It's lush and erotic without devolving into that weird place where sex sometimes becomes too graphic, and best of all, the sex actually advances the plot. Each sex scene is a logical stepping stone to the growth of this relationship between these two people. There's nothing worse than an erotic romance where sex is tossed in at regular intervals without ever actually doing anything for the development of the story, and I'd love nothing more than to use Slow Surrender as an example of how not to do that. The sex is organic to the plot here, as necessary to this relationship as breathing and talking.
Does it have a cliffhanger ending? Naturally. This is the era of trilogies (and more) and it's pretty much expected at this point. But had there been no cliffhanger, I'd still be checking our book lists regularly looking for the sequel to show up for review. Slow Surrender made me love the billionaire Dom again and you should definitely check out this perfect example of everything this subgenre should be.
Curious about Slow Surrender? The book is available now, and you can read an excerpt here. For more erotic romance visit our Everything Erotica Page.