Extended Review: Sylvia Day's Entwined With You
Tue, 06/04/2013 - 2:07pm — admin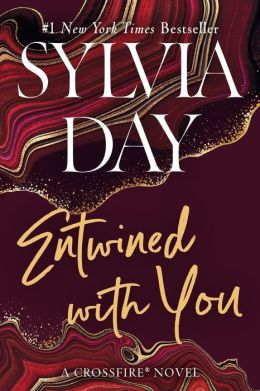 This review contains minor spoilers. You can find my print review of Entwined with You in the upcoming August issue of RT.
Here's the thing about Sylvia Day's Crossfire series: yes, it's trope-y billionaire erotica, but it's really good trope-y billionaire erotica. There's nothing wrong with the billionaire hero trope per se, but readers have been overwhelmed by it every since The Book That Shall Not Be Named. Ultimately what makes a book good isn't whether or not the story has been done before (because really, nothing is original at this point), it's the quality of the writing, the believability of the plot and characters that are engaging enough for readers to emotionally invest in. Day's Crossfire novels deliver all of these things and Entwined with You is a much welcomed installment in an already excellent series.
Book 2, Reflected in You, left us with a big reveal that explained why Gideon had been pushing Eva away throughout the entire novel; he did something very illegal. (I should stop here to mention that if you haven't read any of the previous Crossfire novels, you'll want to start from the beginning.) 
Entwined with You picks up right where the last story left off, with Eva and Gideon still separated, as Gideon's way of keeping Eva safe. I don't want to spoil anything major, but eventually Gideon realizes he's no longer at risk of being in trouble with the law and he and Eva gradually become reacquainted, eventually making their relationship public again. But not without some messy ex drama.
Cue the exes! Eva's ex-boyfriend, Brett Kline, singer of the rock band Sixth Ninths (the best fictional band name ever), who, along with everyone else, assumes Eva is single and invites him to his band's video release in Times Square, where he publicly confesses his love for her through song. Eva is too polite to tell him to hit the road and wants to keep Brett as a friend, so she's stuck playing along until she no longer has to sneak around with Gideon. Gideon, meanwhile, is dealing with a similar ex situation. In the last book, he became close with one of his ex's, Corrine, which devastated Eva. Although Gideon made it clear to Corrinne that their relationship was just for show, she was madly in love with him and is devastated when he goes back to Eva. In the end, it all mostly works out, and Eva and Gideon are able to move forward with their relationship.
While most Crossfire fans will take the time to tell you about how amazing (and sexy, and wonderful) Gideon Cross is, I can't say he's my kind of hero. He's done some things that have caused me to shake my head and throw my hands in the air out of frustration, I once even shouted "Dump him!" while reading Reflected in You while on the train. Yes, Gideon usually makes up for his shortcomings (not those kind) with scorching sex scenes, but awesome sex doesn't always fix a mistake ... although it helps. But I'm a sucker for an awesome heroine, and what makes Gideon so amazing is Eva. She truly brings out the best in him and is strong enough to push back when he does something stupid. She's not dependent on his wealth (her stepfather is loaded), she's gorgeous and smart enough to know she can have pretty much any man and she's reclaiming her life after being sexually abused as a child (through self-defense classes and speaking out against her mother's overprotective spying). If there's anyone in the Crossfire series that deserves fan love, it's Eva Tramell. And if there's any author who deserves kudos for creating one of my favorite erotic romance heroines, it's Sylvia Day.
And isn't bringing out the best in one another what great couples do? I'll give Gideon credit here, because he definitely brings out the best in Eva by being as supportive and understanding about her abuse as he can be. After all, he's experienced something similar. He's literally willing to do anything for her, as he proves at the end of book 2, so I guess that makes him pretty great. Ok, ok. If someone did for me what Gideon did for Eva, well ... I can't even begin to imagine what my reaction would be. I can't put on my "Gideon Fangirl 4ever" hat just yet, but I adore Gideon and Eva and I can't wait to see where Day takes them next. Thankfully, it looks like we have more Crossfire novels to look forward to!
You can pick up a copy of Entwined with You, and the rest of the Crossfire series, available now. For more extra steamy romances, visit our Everything Erotica Page.