A Few Good Men: In Praise Of The Hero-Centric Series - With Giveaway!
Mon, 07/29/2013 - 12:47pm — admin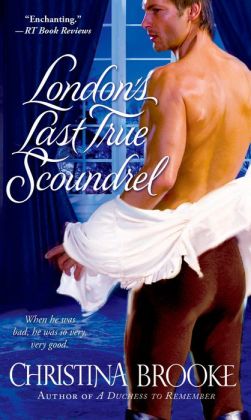 There's certainly a special allure of a series that follows a group of fantastic Alpha males. But watching strong heroes discover heroines to tame their wild ways is only half the fun. The other half? The heroes themselves! Today historical romance author Christina Brooke tells us which hero-centric books she loves, and how she planned her own band of heroes for her current Westruther series. Plus, she shares how her current release, London's Last True Scoundrel, started with an idea that threw her for a loop and offers three readers a chance to win the book!
The Cynsters, the Black Dagger Brotherhood, the Chicago Stars… I love series that center around a group of hot alpha men, don't you? I'm so curious to see how they interact with each other — the bromance of it all, if you will. And how the others in the group react when one of them falls hard for the woman of his dreams.
When my editor got excited about a male-centric spin-off series for my Westruther cousins, I was stoked. I had three books all worked out — one for the Earl of Beckenham (upright, dependable, inflexible and just quietly, phenomenal in the sack) one for Viscount Lydgate (debonair, charming and utterly lethal) and one for the Marquis of Steyne (cynical, damaged and very, very wicked).
London's Last True Scoundrel (for which RT honored me with a Top Pick, Yay!) was never meant to be written. In fact, I was half way through Beckenham's book — you know, the dependable one? — when my editor said, "I've thought of a fantastic title for this book. You HAVE to use it. It's London's Last True Scoundrel."
Uh-oh.
As I believe I've mentioned, Beckenham was upright, dependable and inflexible. He'd been in three previous books in my Ministry of Marriage series. There was no way I could make him a scoundrel. The title didn't seem to fit my other Westruther men either, somehow.
So I wrote an entirely new book. Fortunately, Jonathon Westruther, Earl of Davenport, had just returned to the family after faking his own death. As you do. He was the perfect candidate for a book called London's Last True Scoundrel. He wouldn't mind me telling you this, just so you know. As he says himself, "I wouldn't trust me either, if I were you."
At the time this happened, with two months until my deadline, I was ready to tear my hair out in chunks. But I had SO much fun writing this book, I need to send my editor flowers, plus a huge helping of "You were right" pie. Creative triggers can come from anywhere. This time it was a title that fired the synapses and kept me grinning throughout the first draft.
Davenport begins the book truly living up to his reputation. As he says to Hilary:
"This is what I keep telling you," he said. "I am London's most notorious scoundrel. As such, it is my job to seduce you. As a virtuous lady bent on establishing her pristine reputation, it is your job to stop me."
But of course, while the bad boy side is never completely ousted from Davenport's character, he rises to the challenge of love. Our heroine, Hilary has Davenport's measure. She says:
"The only way to save my reputation is to sacrifice your freedom. And you'll do it, won't you, Davenport? Because here's the secret I know about you." She lowered her voice to whisper. "You're no true scoundrel at all."
What about you? What's your favorite male-centric series? Do you like bad boys or good men? Oh and by the way, Beckenham's book, The Greatest Love Ever, is coming out on December 31!
- Christina Brooke
GIVEAWAY ALERT: Three readers will win a copy of Christina Brooke's London's Last True Scoundrel. To enter leave a comment here telling us your favorite hero-centric romance series! You can also e-mail your answer here along with your mailing address. U.S. addresses only, please. Winners will be announced here August 2.
UPDATE: The winners are Erica H., Vivian S. and Jeanne Marek

You can pick up London's Last True Scoundrel, available now! For more historical heroes visit our Everything Romance Page.