Fiascos, Reality TV and Insights: An Interview With Kelli London
Fri, 08/16/2013 - 11:21am — admin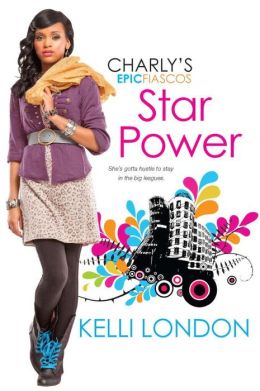 Kelli London knows how to stir up trouble — at least for her characters. London's fun and entertaining Epic Fiascos series stars Charly, a teen reality TV star who finds herself in more than one, well, epic fiasco. Today, London chats with us about the inspiration for her series, her new book Star Power and which reality TV shows she's addicted to!
***
Where did the idea for your Charly's Epic Fiascos series come from?
Two words: Dreams and goals. In life, we all want something, and in order to get that something we must go after it, we must make it happen. The need to become — a need every teenager is faced with when transitioning from adolescence to adulthood — is how Charly and her fiascos were born.
Charly is a pretty headstrong young woman. Did you draw on any personal experiences to shape her character?
As a writer, I always borrow from life and experiences when painting characters, plot and/or story. Please note, though, the borrowing need not be from my own life or experiences, but sometimes situations of others, whether it be an article I've read, a television news broadcast, a person I know — but always with a twist. I never use a real story or person's life for the blueprint, but only as inspiration, because fiction is made better when it has non-fiction as a foundation. I think it's the foundation that allows others to connect to the story, to say, "Hey, that's something I can relate to."
What can readers expect from the latest installment, Star Power?
Inflated trouble, colorful characters and situations and, more importantly, Charly being Charly, which, as we know, spells epic fiascos! On the serious side, readers can join Charly as she learns more about herself, including what problems come with being a star, and that the limelight has ebb and flow — power that can overtake her or that she can command and wield if she has to. Charly's no stranger to trouble, but, luckily for her, she's not a punk either, and that, the readers will witness.
Charly gets into some pretty "epic fiascos." Which scene is your favorite and why?
That's a hard question because Star Power has many scenes that I like, so in true Charly fashion, I'll chose two scenes (Charly isn't a this-or-that girl, she's a this-and-that girl). I like face-off scenes. One where Charly faces off with a cop, but not in a criminal way. She just knows who she is, and in that knowing, she points out that teenagers aren't less than — they're equal to adults and everyone else. The other is when Charly faces off with herself — her teenage immature self and the woman she's becoming; Charly has the ability to hurt someone, and, by all means, she wants to, but she doesn't, even though the person is deserving of some sort of punishment. Charly opts for the high road.
Are you a fan of reality TV?
I love some reality TV shows. As long as the series is smart, provides insight, education and offers a hand in uplifting people while being entertaining, you can count me present. I'll glue myself to the small screen and take it all in. However, since, in my opinion, many shows don't fit the above, I tend to follow reality television for the home, life, etc., such as Extreme Makeover, and shows broadcast by HGTV, Discovery and the DIY channel.
What do you hope your readers take away from the book and series?
I want my readers to use Charly as their guide. In Star Power, Charly learns that popular isn't always so great and, most often, it's better to be yourself. Don't follow the crowd or trends or the majority, make them follow you if your way is better. More importantly, know yourself, love yourself and propel yourself forward. Dreaming is a noun; it's for sleepers. Do is a verb; it's for those who'll act on their dreams and make them come true.
Want to see what kind of Charly gets into next? Then be sure to pick up your copy of her latest fiasco, Star Power, today! And for more Young Adult buzz and authors, head on over to our Everything Young Adult Page!