A Final Message and Excerpt Before The Lost Saint Hits Shelves!
Tue, 12/21/2010 - 12:10pm — admin
The paranormal YA The Lost Saint by Bree Despain will hit shelves next Tuesday. She has already told us about the incident that inspired the series, shared an insider look at the challenge she faced when starting this novel and revealed what finally helped her break through her writer's block. Now Bree stops by with one final message and excerpt of her novel before readers (okay, us) can get their (our) hands on The Lost Saint on the 28th! 
Dear RT Book Reviews Readers,
Writing Chapter Two of The Lost Saint was a surprisingly emotional experience for me. Grace expresses feelings of inadequacy and frustration because she's unprepared for the challenges she's about to face (feelings almost anyone can identify with on their hardest days), but I also wanted to use this chapter to show what has happened to Grace and her family since the ending of the first book. Grace's brother Jude has disappeared, her father is constantly leaving in order to look for him, and her mother's sanity is anything but solid. Grace feels like she's the only one who's left to hold the pieces together and take care of her younger siblings. 
At this point in the story, it becomes clear that Grace's relationship with Daniel is pretty much the only bright spot in her life, and the conversations they share in this chapter were some of my favorite in the book—because to me, they are very real, very human moments, despite the fantastical elements of the story. I also see them as foreshadowing for what might happen to Grace if something were to come between her and Daniel. [Insert dun dun dun here.]
Many thanks to RT Book Reviews for hosting this preview of The Lost Saint. I hope readers have enjoyed these preview chapters as much as I have enjoyed sharing them. I can't believe The Lost Saint is coming out in just a week!
Much love and warm wishes for happy holidays,
- Bree Despain 
Enjoy this excerpt and message, which will tide you over until The Lost Saint is released on December 28th. And then stop by next Tuesday to enter in a very special giveaway!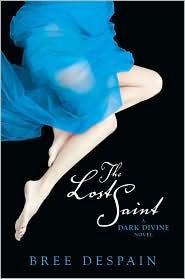 Learn What Inspired the Series >>
Discover What Challenge She Faced >>
Learn What Helped Her Break Through >>