Fiona Lowe Shares How Her Businessman Hero Fell For A Quirky Country Girl
Wed, 04/17/2013 - 2:27pm — admin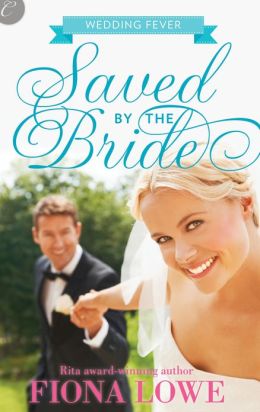 We always love when opposites attract, and the hero and heroine in Fiona Lowe's Saved by the Bride do just that. When businessman Finn Callahan heads to his family's second home in Wisconsin, he's prepared to make it a fast trip. He certainly doesn't expect country girl Annika to steal his heart. What does a high-powered professional see in a laid-back small-town woman? We asked the author, and she gave us quite a long list of reasons.
Perennial bachelor, Finn Callahan's visit to his father's vacation home in rural Wisconsin should have been a quick, unmemorable trip. After all, Finn has a paper empire to run and a personal life to get back to. So imagine his surprise when he can't keep his thoughts off of Annika, the rural girl with a heart of gold and a wardrobe full of hoodies. What makes this woman so special?  
Let Finn count the ways... 
Her Legs. Finn had always been more of a breast man right up to the moment he met Annika's legs climbing inexpertly into his library.
Her ink-stained jeans, her sloppy hoodies and her red canvas sneakers. None of the women he socialized with would be seen dead wearing anything other than designer clothes and yet Annika looks as good, actually she looks better than the woman he normally dates.
Her loyalty. Anni does what she has to do in order to protect those she loves, making Finn question his relationship with his family.
Her 'give it your best shot' attitude. No matter how tough things get, Anni never wavers from a goal.
Her sassy mouth. Not many people speak their mind to the man who's the acting CEO of a multimillion dollar company.
Her stubbornness. Actually, it annoys the hell of Finn but he has to admire her tenacity.
Her negotiating skills. (Both in the office and in the bedroom.) He really enjoys this!
She is deliciously clumsy, a walking disaster. And he loves her for it.
Although it takes him a long time to realize it, Annika Jacobsen is the best thing that has ever happened to Finn.
- Fiona Lowe
You can download a copy of Saved by the Bride, available from online retailers now! For more sexy contemporary romance, visit our Everything Romance Page.