First Look and Giveaway: A Breath of Frost by Alyxandra Harvey
Fri, 12/13/2013 - 12:07pm — admin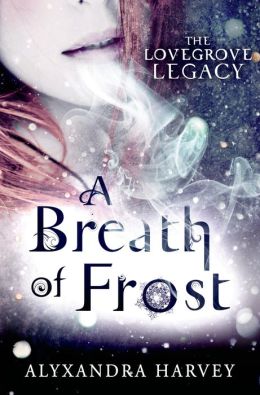 News of a new Alyxandra Harvey release always causes a flurry of excitement here at RT, so it's no surprise that we're all over her witchy January YA release, A Breath of Frost! Set in Regency London, this first installment in the Lovegrove Legacy series combines witches, action and addictive romance.
If you're dying to learn more, then you're in for a treat today because we have an exclusive first look! Read on to see which witches Alyxandra loves the most and then watch an exciting video where she discusses the book and its characters. But that's not all! At the end of the post enter for a chance to win A Breath of Frost! Take it away, Alyx!
Who hasn't stared up at the sky, wondering if you could move the clouds with your mind? Or is that just me admitting to listening to too much Kate Bush in university?
The idea of magic running through our world is both comforting and exciting. It offers the danger of not knowing what might happen next and the allure of being able to change things we don't like. Like traffic jams. And mullets.
Here are some of my favorite witches (who I am certain would fearlessly defeat the dreaded mullet).
Harry Potter:
It goes without saying that if Hogwarts was a real school, I'd want to be a professor. Of what I don't know … are their magical ways to summon Mr. Darcy? I think I'd be good at that.
Practical Magic:
I am already kind of like one of the crazy aunts — just ask my nieces and nephews, both familial and honourary. But if I could have some of those dresses and that beautiful house full of spinning wheels and secret corners, that would brilliant.
Hex:
Michael Fassbender. Need I say more? Oh right, witches. Again, British boarding schools are apparently the place to be. And Hex used one of my favorite witchy tropes — historical flashbacks with old spells reverberating through the centuries. And British accents.
Dune:
Creepy witch-like Bene Gesserit sisterhood and the creepy, creepy little sister Alia. Alia — from Dune no less — was my nickname in high school. Just saying.
Macbeth:
They cackle. They speak in iambic pentameter. What's not to love? Actually, it's Trochaic Tetrameter, but that's really hard to say. Although, okay, as a dog lover, I just can't get behind the dog heart thing. How about a nice radish instead?
-Alyxandra Harvey
***
Want to learn more about A Breath of Frost's leading ladies, both good and bad? Watch this exclusive first look video:
***
Giveaway time! Just use the widget below to enter for a chance to win one of five hardcover copies of A Breath of Frost! The giveaway is open through the rest of December and is open to U.S. residents only. Good luck!