Free E-Read: Naomi Novik's Short Story "Vici" Is Available Now
Fri, 01/13/2012 - 10:20am — admin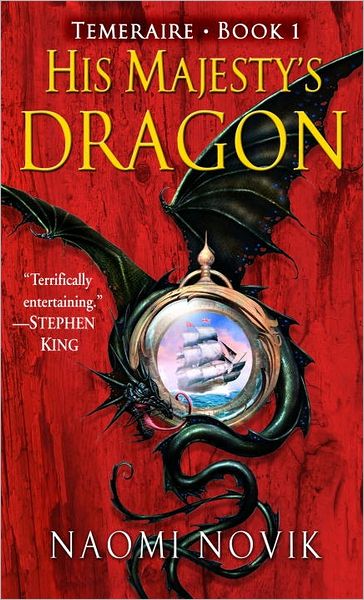 I have to admit, I've never really been into dragons. Book, film, or otherwise, the fire-breathing serpentine creatures just didn't do it for me. Generally I choose science fiction over fantasy, so there aren't many fantasy creatures on my bookshelf to begin with. However, my dragon aversion ended when I picked up His Majesty's Dragon by Naomi Novik after her book signing at last year's New York Comic Con. (That's a solid five years after the book was published.)
Let me tell you, I absolutely adored the book. I was enthralled by Captain Laurence and his talking dragon Temeraire. Since then, I have been swept up in the author's universe, which weaves dragons into the Napoleonic era. Novik skillfully mixes fantasy and history to create a believable world. And all my hours of enjoyment are thanks to the excellent job that the first story did of winning over this sci fi reader.
Always thrilled to get a new adventure from the author, it was a special treat to learn that Novik's short story "Vici", which originally was published in last year's anthology The Dragon Book: Magical Tales from the Masters of Modern Fantasy, is currently being offered as a free e-read by Fantasy Magazine.
Like HMD, "Vici" is set in the Temeraire universe, but I was slightly confused when I began reading the short story. Rather than taking place during the Napoleonic wars as the rest of the series does, this e-read is set during the Gallic Wars as Ancient Romans fought the Gallic tribe in the area we now know as France. Furthermore, "Vici" features a plot line that is strikingly similar to that of His Majesty's Dragon. There is a central hero, a dragon egg that hatches a talking creature and together the man and beast alter history. The first few paragraphs of the tale had me wondering, did Captain Laurence and His Majesty's Aerial Corps time travel back to Ancient Rome? Maybe not, but "Vici" is very reminiscent of the series starter. 
The short story follows ancient Roman citizen Antony who is ordered to kill a dragon. After successfully slaying the beast, he steals one of its eggs as a trophy. But Anthony is unprepared for what happens when the egg hatches a talking dragon. The baby creature, which Antony names "Vici", is demanding and outspoken, but also eloquent and charming. Really, she's like a high-maintenance girlfriend with scales: "She also demanded three goats a day, a side helping of something sweet, and jewelry, which didn't make her all that different from most of the other women of Antony's acquaintance." Although Vici is well behaved, when she outgrows the town's confines, the magistrate sends the pair to fight in Julius Caesar's Gallic Wars. There, Vici's immense strength and power makes her and Antony a very valuable asset to the emperor.
"Vici" could very well be a prequel of sorts to His Majesty's Dragon. By the end of the story I was certainly willing to believe that Captain Laurence may not have been the first to discover a dragon egg. Perhaps Vici is an ancestor of Temeraire. Alternatively, Novik may be plotting a spin-off series. Or maybe she was simply testing her "wings" seeing what would happen to this popular story when she changed the setting and a few other crucial details. No matter why she wrote the short story, it's clear that the author really enjoys writing about dragons and their humans. 
Ultimately, although "Vici" follows the plot of His Majesty's Dragon closely, this short story packs a punch. There's no denying that Novik weaves vibrant relationships between humans and their dragons. And in "Vici"  the author shows her talent by crafting a touching one between Antony and Vici in only a few pages. Furthermore, dragon Vici's delightful personality shines throughout the text.
All in all, this delightful short story is perfect for readers who are looking for an introduction to Novik's style, and is a hidden gem for those who have read every book thus far. No matter what camp you fall into, "Vici" will have you devouring (or re-devouring) books one through six in anticipation of Novik's series seventh, Crucible of Gold, which will be in stores this March.
Can't get enough of the Temeraire universe? Read "Vici" for free online here. And for more genre news check out RT's Everything Science Fiction & Fantasy Page.