Friday Free for All: Awaken by Katie Kacvinsky
Tue, 11/19/2013 - 5:07pm — admin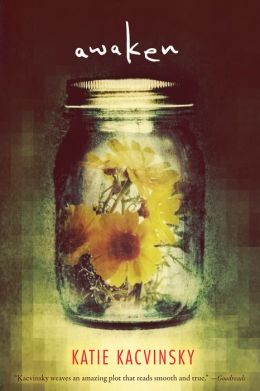 Young adult author Katie Kacvinsky is gearing up for the 2014 release of Still Point, the third and final entry in her exciting and harrowing dystopian romance series. And to help her celebrate, we're giving away one e-book copy of the first book, Awaken! First, let's take a look at what Awaken is all about:
Maddie lives in a world where everything is done on the computer. Whether it's to go to school or on a date, people don't venture out of their home. There's really no need. For the most part, Maddie's okay with the solitary, digital life—until she meets Justin. Justin likes being with people. He enjoys the physical closeness of face-to-face interactions. People aren't meant to be alone, he tells her.
Suddenly, Maddie feels something awakening inside her—a feeling that maybe there is a different, better way to live. But with society and her parents telling her otherwise, Maddie is going to have to learn to stand up for herself if she wants to change the path her life is taking.
In this not-so-brave new world, two young people struggle to carve out their own space.
We also asked Katie to share her thoughts on writing the series. Here's what she had to say:
"This series incorporates so many elements I love in books and movies: a slow burn romance, dystopian setting and action. It's also very relationship driven. I feel like it's a combination of Pride and Prejudice and The Matrix … so I thoroughly enjoyed writing it. I also love making people think about our digitally driven lives and where it all might be headed. I can't wait for the final installment to come out."
And since the series takes place in a technologically advanced society, we wondered what Katie's worst technology-related fear is, and this is what she said: she's worried about the day computer chips replace our brains. "We'll just insert chips into our heads, and we will be able to download all of our knowledge," she says. "That idea is terrifying, because we would never have to read!"
Yikes! That would be terrifying! But before technology becomes too advanced, let's give away that e-copy of Awaken, shall we?
UPDATE: The winner has been chosen. Congratulations to Kathryn P.!
To enter, leave a comment telling us what your worst technology fear is. You can also email us your entry here with the subject line "Katie Kacvinsky Giveaway." This giveaway is open to U.S. and International readers and will end next Friday! Good luck!