Friday Free for All: Sally Mandel Giveaway
Fri, 09/13/2013 - 5:20pm — admin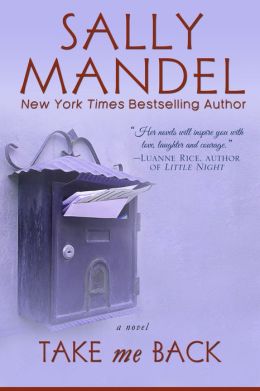 Well, we made it to Friday! To celebrate, we've got a great giveaway for you, from a wonderful blast from the past, Sally Mandel. 
New York Times bestelling author, Sally became known for her weepy, sweeping stories. RT's own Jill Smith called Mandel's Out of the Blue, "a genuinely superb and poignant story," and her Heart and Soul "flawless."  But then an accident after routine surgery left Mandel seriously impaired with brain damage — with a long recovery ahead of her.  
But just like her heroines she perservered, and now, she's back with a new saga, Take Me Back.
Mandel told us about the aftermath of her accident:
I confronted, as best I could, the challenges necessary to lead a semblance of a normal life, which, for me, includes the act of writing. It was a leap of faith. For a long time, the concept was unimaginable. But one evening over dinner, my husband asked, "How about trying to write again?"
After many months, the first chapter of Take Me Back was born, the one introducing Lily Adams. It is a hard-won 26 pages long, with at least a hundred pages of notes to support its creation. After Lily's debut, I was surprised that I could not stop thinking about another character in the story, her granddaughter, Amy. Maybe I ought to try experimenting with her, I thought. I liked the result. After that there were Lily's daughter, Stella, and William and Simon. Lo and behold, one day after years of trial and error, it turned out that I had written … a novel.
Today we are so pleased to host a giveaway for Take Me Back. Three winners will get their very own copy of this multigenerational saga, in print of ebook format (your choice!).
And for one lucky winner, we have an e-set of five of Mandel's digital backlist titles, which are on sale now: Heart and Soul, Out of the Blue, Change of Heart, Portrait of a Married Woman and Quinn. 
So let's send this unstoppable author some love! Leave your well wishes in the comments for a chance to win. (U.S. residents for print copies of Take Me Back only, please. Contest open internationally for the e-book set, or an e-book copy of Take Me Back.). A winner will be announced here next Friday. For more Mainstream stories, visit our Everything Mainstream page.
UPDATE: The winner is Texas Book Lover