Gabrielle Zevin's All These Things I've Done Gets A Makeover — With Giveaway!
Tue, 05/08/2012 - 2:04pm — admin
The paperback edition of Gabrielle Zevin's latest YA tale, All These Things I've Done, hits stores today and I couldn't be more excited. The series starter was released last September as an RT Top Pick! and took home an RT Reviewers' Choice Nominee.
Not only is this story now at a more affordable paperback price but it's now got a leaner, meaner paperback cover. The hardcover art was cute but looked a lot like a contemporary read rather than a story set in futuristic NYC. With this (slightly) more colorful and dare I say "digital-looking" art on the front of the book, I feel like you really get a better sense of what's between these covers.
| | | | | | |
| --- | --- | --- | --- | --- | --- |
| | | | |   |   |
|   |   |   |   |   |   |
| | | Hardcover Cover | Paperback Cover |   |   |
|   |   |   |   |   |   |
The sense of adventure really permeates the new cover art the same way it does the story, because from the first page it the tale absolutely gripping. Teenage heroine Anya is the daughter of a ruthless crime boss, and since her parents' deaths, she's been helming the family; taking care of her sisters and her elderly grandmother. Things are going okay — or as much as they can be in 2083 New York City when coffee and chocolate have been outlawed (doesn't that sound grim?). But when Anya's ex-boyfriend gets poisoned, the police think that it's all her fault. And to make matters more complicated, the (totally cute) son of the Assistant D.A. may be trying to pin a murder on Anya. 
Now, I certainly don't have that much going on and I can barely keep up with everything. So Anya's can-do (or maybe will-do-no-matter-what) spirit had me totally in awe. To get a bit of inspiration for the days when I am down and out (although not fighting a murder charge, trying to keep my little family going and totally crushing on the son of a man who wants to see me behind bars) I asked ATTID author Gabrielle Zevin if she could share Anya's top 10 rules for surviving the insanity of her life (and proving that she didn't poison her ex). Take a look at what simple rules she says guide her heroine:
Anya's world's dirty, crime-filled, and everything's in short supply. What's a girl to do?
1. Consider installing a safe in the back of your bedroom closet. It's a good place to put cash, weapons, chocolate and other things necessary for a quick getaway.
2. Date nice boys if at all possible. Bad things happen to bad boys and the girls who love them. Avoid boys with fathers whose professions conflict with your own interests.
3. Family weddings are for drunken relatives and other people best to be avoided. Proceed with caution.
4. Hoard what is necessary for survival — i.e., hair products. Trade for a high quality flat iron if you ever come across one on the black market.
5. International travel can be invigorating. It's also a good way to escape the law.
6. Shop vintage! A good prom dress is hard to find. It needs to be pretty, relatively free of moth holes and ideally, blood absorbent. (You never know what's going to go down at a high school prom.)
7. Brush up on your forensic science. If you happen upon a crime scene — and you will — you should know how to handle yourself. Make friends with your local law enforcement officials.
8. Never wear your good jewelry to prison. Obvs.
9. The most important people in your life are your family. The second most important person is your lawyer.
10. Falling in love is for the weak.
Now Zevin has just given us Anya's take on how to staying alive and out of jail. And between you and me, these sounds like some pretty solid rules. (Although, I bet you ten dollars that Anya is going to break rule number ten. Any takers? No?) But don't trust me, go pick up a copy of this newly made-over — and easier on the wallet — paperback that has just hit stores.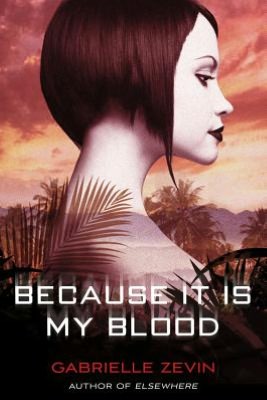 And be sure to circle the date 9/18/12 on your calendar, because that's when the series second will release. Thankfully, it's not too far off. Because it is My Blood has me more than a little bit intrigued with the chilling title and the cover art that is equally fantastic to book one's paperback release. Check out those trees on the front of BiiMB. Those are not New York City trees. Instead, they give us a hint that by the end of All these Things, the story has not re-set to "situation normal" — and readers can expect the fast-paced compelling adventure to continue. However, if anyone can survive what's ahead, well, I'm guessing that it's Anya. (She's a tough chick if I've ever met one!)
GIVEAWAY ALERT: Three lucky readers will each win their own paperback copies of All These Things I've Done! To enter, comment on this post and tell us which of Anya's rules you have the most trouble following. You can also e-mail your answer here, along with your address. U.S. addresses only please. Winners will be announced May 21st.
BLOG UPDATE 5/22/2012: The winners are JillianMick, Molly F. and Twisty J.
You can pick up the paperback copy of All These Things I've Done, available now. Hungry for more YA reads? Check out our Everything Young Adult Page for the latest genre news!