Gayle Callen On Her Blind Heroine In Surrender To The Earl
Tue, 05/28/2013 - 11:48am — admin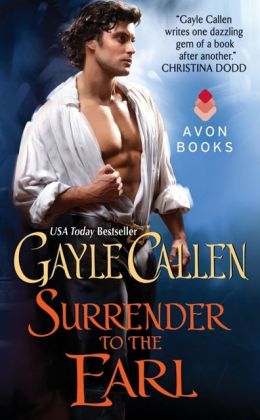 Gayle Callen is shaking things up in her latest historical romance, Surrender to the Earl. Her heroine, Audrey Blake, is a blind widow who's tasked with reclaiming her rightful property after her husband's death, and Robert Henslow, Earl of Knightsbridge, comes to her aid by insisting they pretend to be engaged. But this isn't the first blind protagonist the author has written. Today, the author shares what motivates her to write this type character and why Audrey is an exceptional heroine.
I've tried something a little different with my newest historical, Surrender to the Earl. My heroine, Mrs. Audrey Blake, is a blind widow. Now I've done a blind main character before, Simon Wade, the hero of The Viscount In Her Bedroom. You might wonder why I've chosen to write two blind characters, rather than just accept the challenge of one. It probably started when I read Christina Dodd's Candle In The Window, a medieval with a heroine blind from birth who's hired to help and teach a knight newly blinded in battle. It was Christina's first book, and it won her so many awards. I read it almost twenty years ago, but it stuck with me, along with the challenge of trying to be in the point of view of a blind person, something I've never experienced.
I did a lot of research on how the blind were treated in the nineteenth century, pretty much as invalids. And when people are treated as invalids, they tend to weaken from lack of exercise, and it becomes a vicious cycle. But people did begin to help the blind. The first school for the blind was established in the late eighteenth century. Embossed books were created for the blind to read, a way to press letters into the paper (before Braille was developed). But this could make a long book huge, of course. I do have Audrey reading some of these, but they were very expensive, and the poor could never afford them. In those days, if you had to earn a living, a blind person would be taught to weave baskets, spin flax, or plait whips.
It was easier to be a viscount and blind. Simon had a loving family, servants to assist him, a secretary. But what about a woman like Audrey, whose family was embarrassed by her, whose husband married her for her dowry and left her behind? She was powerless to escape, had no real friends. Such a woman could very well wither away.
But not Audrey. She had the benefit of a mother who loved her and treated her as a normal child, encouraged her to learn needlework and play the piano. By the time her mother died several years before, Audrey already had the gift of belief in herself, although it was tested by the lengths her family went to to hide her away. And then Robert Henslow, Earl of Knightsbridge, returns from India to pay his respects to the widow of a fallen soldier, who died because of a mistake Robert made. Audrey bravely asks him for help, and Robert is amazed by her courage and bothered by the way her family treats her. He can't help but agree — yet how to escort a blind woman away from her family without looking like he's kidnapping an invalid?
By proposing a fake engagement, of course! But complications happen…
Do you like the "fake engagement" storyline in historical romances? Let's discuss our favorites.
- Gayle Callen
You can pick up a copy of Surrender to the Earl, available in stores and online now! For more historical romance, visit our Everything Romance Page.