Get In The Game With Jaci Burton
Tue, 02/08/2011 - 5:06pm — admin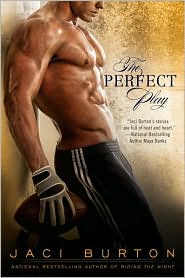 Erotic romance author Jaci Burton has just switched gears from writing her popular motorcycle-themed books to focusing on professional athletes. Her newest series, Play-by-Play, kicked off this month with the ultra steamy The Perfect Play. Today the author lets us hang out on the sidelines and shares what we can expect from her sports themed stories. 
RT BOOK REVIEWS: Your new series starter, The Perfect Play, was recently released. What inspired the professional sports setting of your new series and what was it like to transition from the world of Harley riding undercover agents to that of professional athletes?
Jaci Burton: I love sports of all kinds—football, baseball, hockey, soccer, basketball. I always have, ever since I was a kid—my dad instilled my love of sports in me, and I've carried it with me my entire life.
It's been hard leaving my Wild Riders (though there will be one more book—yay!), but so exciting to start this new series! There's something so fresh and thrilling about dipping your toes in the creative waters of a brand new world.
RT: The hero of The Perfect Play, Mick Riley, is a very determined and intelligent athlete on and off the field—not to mention completely sexy. Did any real life athletes influence his character and can you share the first thing that you knew about Mick when you began writing him?
JB: I didn't have any real life athletes in mind when I created Mick. He's a total figment of my very active imagination. The first thing I knew about Mick when I started writing about him was that he was determined and confident—but also more vulnerable than even he was aware of.
RT: You describe Tara Lincoln, the heroine of The Perfect Play, as being beautiful and sexy in a "real" way. What details were important to you as you were crafting her character? 
JB: I don't like perfect heroines. It was important for Tara to be flawed. She tries to juggle so much in her life—her job and raising her son—and she tries to be perfect at it. Of course no one can do anything perfectly, so she fails here and there, and that's what I love so much about her. But I think the one thing I wanted more was for her to love herself, despite her past.
RT: Tara is the a single mother of a 14-year-old boy named Nathan and reviewers are raving about the relationship that Nathan and Mick develop during The Perfect Play. Can you share your favorite scene between Mick and Nathan?
JB: I do have a favorite scene between Mick and Nathan, but I don't want to share it because it's an important scene in the book and for people who haven't read it yet, it's a very revealing scene, plot wise. But another favorite scene is when Mick and Nathan first meet. Nathan is so shocked to learn his mother is dating the quarterback for his favorite football team, and Mick really likes kids, so their bond is instantaneous. For Nathan it's a true case of hero worship, and for Mick it's a chance for him to see another part of Tara in her son. Plus, he instantly likes Nathan, which plays out throughout the book.
RT: Fans online have ranked The Perfect Play as having one of the hottest covers out there. Are the elements on the cover the same that you imagined portraying The Perfect Play when you first began writing it?
JB: The cover gods smiled on me by giving me the greatest cover ever! The Berkley art department is amazing and always so incredible with their cover art. When I envisioned the cover as I was writing the book, I envisioned a hot, sexy guy holding a football. I write the books—the supremely talented people who design covers are the ones with the vision to create mouth-watering cover art. The only thing I asked for was a hot sports guy on the cover. I think they more than delivered.
RT BOOK REVIEWS: We know that Mick's brother Gavin gets his story told later this year in Changing the Game. Does that mean their sister Jenna will also be featured as well?
Jaci Burton: Oh, Jenna gets her story. She's my heroine in the third Play-by-Play book. I can't wait to start writing that one. It's up next!
You can check out the first book in Burton's Play-by-Play series, The Perfect Play, on shelves now!