Get Into The Holiday Spirit With Debbie Macomber - With Giveaway!
Mon, 10/04/2010 - 5:08pm — admin
With the winter right around the corner, the RT staff is looking forward to the holiday-themed romances that will be out all season long. Today Debbie Macomber chats with us about her new Christmas romance novel, Call Me Mrs. Miracle. In this exclusive interview, learn Macomber's favorite holiday traditions, including a special family-favorite recipe from the author. And don't miss the GIVEAWAY at the end of the post!
RT: What is your favorite part of getting ready for the winter holidays?
Debbie Macomber: My favorite part of getting ready for the winter holidays is setting up my Nativity Scenes all over the house. I collect them and have more than 100 now. No matter where you go in our house, baby Jesus is watching every move you make! And, of course, I treasure the times I have with my children and grandchildren baking and cooking Christmas goodies. I have dozens of recipes for fruitcake.
RT: Does your family have any holiday traditions that make Christmas special? 
DM: We have a number of traditions. The first Friday of December my daughters, daughters-in-law, and my grandchildren all get together to cook and make candies, cookies and goodies for our friends and family. It's a slumber party—without much sleep! Also, we play bingo on Christmas Eve as a family, often with hilarious results.
RT: Any favorite Christmas gifts that you would like to share?
DM: My favorite Christmas gift is the wonderful present my sons gave my parents some years ago. While they were in college, Ted and Dale drove 150 miles to my parents' house and decorated it for the holidays for them, because they were no longer able to do so. It meant so much to my Mom and Dad, who proudly boasted to anyone who would listen what their grandsons had done. In January the boys went back and undecorated the house. 
RT: What is your favorite Christmas story? If it has changed since you were a child, what did it used to be?
DM: My favorite Christmas story is the original one, when Jesus came . . . and that hasn't changed.
RT: What book are you hoping to curl up with this winter?
DM: This winter I'm hoping to read Pearl, a fictionalized story of the life of Pearl S. Buck.
RT: Are you inspired by the holidays to write or do you take a break for the Christmas season?
DM: In December I usually work on finishing up the latest Cedar Cove installment and try to squeeze in a variety of Christmas activities. In general, I reserve the last two weeks in December for family.
RT: You just released a holiday-themed book. What can readers expect from your Christmas story?
 
Doris Roberts and
Debbie Macomber

 

 
DM: This year's holiday themed book, Call Me Mrs. Miracle, is being made into another Hallmark Channel movice staring Doris Roberts. We anticipate it will air Saturday November 27th on the Hallmark Channel. I based Call Me Mrs. Miracle loosely on Miracle on 34th Street. The story takes place in a department store with Mrs. Miracle wearing all her charm and Christmas spirit -- and working miracles for a young boy whose dad is fighting overseas, his care-giving aunt and the department store owner's son. 
The original Mrs. Miracle Hallmark Channel movie will be available on DVD November 16th. Mrs. Miracle was the most popular Hallmark Channel movie of 2009. 
RT: And one bonus question: Can you share a favorite holiday recipe with RT's readers?
Debbie Macomber: My favorite holiday recipe is this family fruitcake. This particular recipe is one of the fruitcake recipes used in my holiday hardcover, There's Something About Christmas.
GIVEAWAY ALERT: Three lucky winners will receive copies of Debbie Macomber's new novel Call Me Mrs. Miracle. To enter please leave a comment about why you love Debbie Macomber's stories or holiday-themed romances or e-mail here with your comment, mailing address and the subject line "Debbie Macomber's Call Me Mrs. Miracle Giveaway." One entry per person. The contest winners will be revealed October 20th.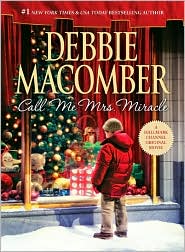 Don't miss last week's interview and giveaway with Sherryl Woods about her new romance, A Chesapeake Christmas. Read all about it here >>
BLOG UPDATE 10/21/2010: And the winners are ... Cories, Dawn_Green and Sissteele!