Get The Look: Amanda Quick's The Mystery Woman
Mon, 05/13/2013 - 1:09pm — admin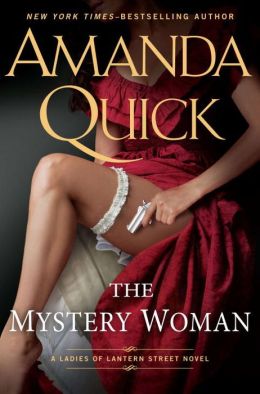 I have been a fan of Amanda Quick since I was a teen, and there isn't a story from the author that I haven't read. Whether she is writing historicals under the Quick name, contemporaries as Jayne Ann Krentz or futuristics as Jayne Castle, this is one author I will follow anywhere. Over the last few years, Quick's writing has evolved. No longer content with writing straight historicals, she has added paranormal elements to her stories which adds thrilling action to her novels.
Quick's most recent release, The Mystery Woman, is a fantastic story about Beatrice Lockwood, a woman living with a secret. Pretending to be a lady's maid, Beatrice uses her "psychical" gifts in order to solve mysteries. On her latest mission she meets Joshua North. Joshua has talents of his own, but his previous profession as a spy has left his scarred — both body and spirit. However, this does not stop him from trying to solve a murder that Beatrice witnessed. With passion simmering between the two as well as a strong psychic bond, will they be able to work together to catch a killer? All signs point to yes!
After you "visit" Amanda Quick's special version of Victorian England, in The Mystery Woman, I thought you might want to bring some of this supernatural influence into your own life. So I have picked out a few modern pieces to share, my selections inspired from quotes from the text.
(1. Standard Stamp Co. Custom Rubber Stamp from Etsy 2. A Midsummer Night's Dream by William Shakespeare from Amazon 3. Collector LTD. 3 Handmade Ancient Egyptian Cats from Etsy 4. Marquis Waterford Vase from Macy's 5. Mikasa Platinum Crown Dinnerware Set from Macy's)