Get The Look: Nalini Singh's Archangel's Storm
Wed, 09/05/2012 - 11:51am — admin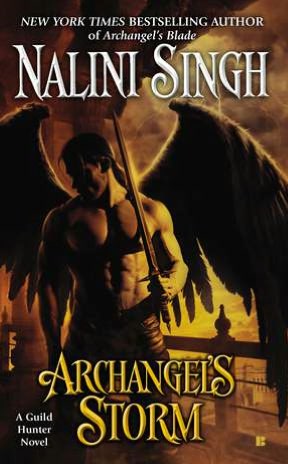 At one point or another, I have probably given every person I know a Nalini Singh story. Her Psy-Changeling books are one of my favorite series, yet I was very reluctant to start Singh's second paranormal series, the Guild Hunter books. How could she possibly create another set of characters that I care as much about? But I should have had more faith in my favorite author. These books have everything — intricate settings, the fast paced action and the complex characterization.
A world ruled by archangels, the Guild Hunter novels are populated by near immortal beings that care little for humanity that they rule. This month, Singh releases Archangel's Storm the fifth book in the series and turns her attention to Jason, an angel spymaster. Jason lives in the dark, in shadows and has a preternatural knowledge of other's deceit and is therefore conditioned to see betrayal all around him. Called to Archangel Neha's demesne to solve a murder and hopefully keep the peace, Jason is unprepared to meet the ruler's niece Mahiya. The beautiful angel is a pawn in the deadly court games between powerful beings. Seen as a "court trinket", Mahiya has cultivated this facade, which keeps her alive. But Jason sees through her act and is immediately intrigued by the woman. But Mahiya is skittish to become involved and is hesitant to believe that anyone can love her for herself. 
I absolutely fell in love with this couple. Jason, living a solitary life, is just as vulnerable as Mahiya, which makes their love story all the more special. Another reason to love the story is the setting. As the Archangel of India, Neha's court is filled not only with intrigue, but also beautiful clothing, gems and architecture. After "visiting" this amazing place in Archangel's Storm, readers will not want to leave, so I have picked out a few pieces to share that are inspired by quotes from the text.
(1. Peacock Weddings Feather Fan by Amore Bride 2. Shades of the Earth Ring and Shades of the Sea Pendant by Andrea Candela 3. Black Ornate Oval Mirror by Malanta Knowles 4. Hair pins by Bun Head 5. Amber Fort in Rajasthan, India)