Getting To Know A Preacher Man
Tue, 02/15/2011 - 12:14pm — admin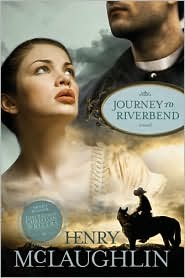 In this special message, inspirational author Henry McLaughlin discusses constructing the main character of his newest historical romance, Journey to the Riverbend. This tale is a February RT Top Pick! Now learn what makes Michael Archer such a special hero:
Someone asked me what it was like to write a character who is an actual preacher.
Michael Archer, the hero of Journey to Riverbend, grew organically from my imagination and heart. True, he was filtered through my own life experiences as a Christian, a church volunteer, and as an observer of those who ministered to the sick, the poor, and those in prison. He is his own unique person, not an autobiographical image of myself nor a representation of anyone I personally know.
There are several things about Michael I had to keep in balance. First, he is not an ordained minister. In his history, he has never preached a sermon. He loves the Jesus he met through the efforts of the local pastor, Zechariah Taylor, who ministered to him while he was in prison, who wouldn't give up on him. After his release from prison, Michael becomes what we would call a lay minister today.
Second, he comes from a violent background, including killing his own father. After he receives Jesus, he struggles to turn his life around, dealing with issues of unworthiness and forgiving himself.
When he is released from prison, he secures employment as a clerk in a general store. This is a radical change from his previous lifestyle of drinking, gambling, stealing, and using violence to get his way. He joins Reverend Taylor and assists him in ministering to prisoners which is how he met the young man, Ben Carstairs. This relationship provides the spark to the story.
Creating Michael meant giving him depth and complexity, flaws and strengths. His strength is a sense of justice and protection of others. His flaws include a continuing struggle to control the violence inside him, violence that he sees as a monster, violence he sees as a destroyer if he ever lets it out.
His other major flaw concerns his relationship with women. Before coming to Jesus, he viewed women as objects to be used. After coming to Jesus, this changes one-hundred-eighty degrees. He treats them with respect but sees himself as unworthy of a relationship until he meets Rachel Stone, a woman with a past seeking to move forward, in Riverbend. He is attracted to her but struggles with his inner conviction that she won't accept him because of the monster within.
Creating Michael challenged me to be aware of how his strengths and weaknesses affected him in every scene, in his interactions with other characters. His Christian spirit had to show through even when he struggled with his inner monster, his own unworthiness, and his inability to forgive himself.
At the climax, he must decide if he can release his inner monster to accomplish good.
Creating Michael was an enjoyable challenge as he grew from a vague image before the writing began to a man who developed and changed through each re-write and each critique into the hero I hoped he would be, still flawed but closer to Jesus and closer to love.
- Henry McLaughlin
To discover more about Michael and his incredible journey, be sure to pick up your own copy of Journey to the Riverbend on shelves now!