Ghost Talk: Amy Talkington Dishes on Her Favorite Ghosties
Tue, 03/11/2014 - 10:26am — admin
Oooooo! Who doesn't love a spooky ghost story? We certainly do! Today, YA author Amy Talkington takes us behind the scenes of her latest release, Liv, Forever and shares her favorite ghost stories she read in preparation for writing her own. So keep the lights on as she reveals which ghosties she loves most!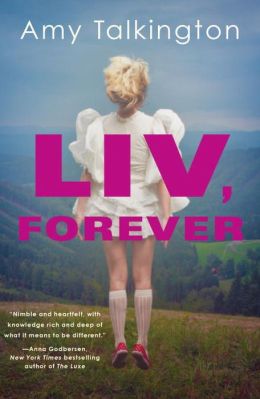 My five favorite ghost stories are the ones that I read (or reread) while preparing to write Liv, Forever. I read these books to get in the "ghosty" headspace but also I wanted to look closely at how other writers handled their ghosts and their ghost "rules." Of course I'd read ghosty books over the years, but I'd never stopped and thought seriously about the rules of the ghosts. Like: Does the ghost interact with the real world? If so, how? What can the ghost do? What can the ghost feel? I knew I needed to create very clear rules in Liv, Forever so I read these five titles to get inspired and study how ghosts have been drawn in recent books.
The Name of the Star by Maureen Johnson
I love, love, love how Maureen Johnson weaves the real story of Jack the Ripper into a fictional, contemporary tale. I thought that was such a smart idea. And, Maureen is so good at creating a strong voice that can bring humor to dark situations. That was inspiring to me because Liv definitely has a wry sense of humor (and her situation is definitely dark).
A cast of richly drawn and diverse characters are all brought together by a big paranormal evil. Not exactly a "ghost" story but haunting and scary. Tense. Mysterious. And, I just loved how Libba threw this very breezy character (Evie) into the darkest situation imaginable — such an awesome juxtaposition.
Okay so technically Mia isn't a ghost but I just really wanted to reread this book! And, Gayle had to craft a similar set of rules around Mia while she was in that in-between state. I find this book so emotional (I'm not alone, I know!) and I was really inspired by how Gayle layered music into the story.
Ghostgirl by Tonya Hurley
This is not a scary ghost story. This is a hilarious ghost story. Tonya masters the satirical tone. It is so funny and consistently drawn. That tone (and the entire book) is very different than Liv, Forever but it was a blast to read a completely different treatment of the dead narrator (and PS: How excited was I when I learned that Tonya sent an awesome blurb for Liv?!)
The Lovely Bones by Alice Sebold
After being so disappointed in the movie adaptation, I was happy to revisit the novel to remind myself why I originally Iiked this story. Obviously, I was inspired by the idea of a story told by a dead narrator. I adore that this book is a ghost story and yet not at all a ghost story. It's really the story of a family and its loss. And a coming of age. Seems like people kinda love or hate this book but if somehow you missed it, it's worth giving a read.
Do you love the same ghost stories as Amy? Let us know in the comments! Be sure to pick up your copy of Liv, Forever, available today, and for more YA authors and books, visit our Everything Young Adult Page!