Gina Lamm Shares How Her Modern Geek Girl Adjusts To Regency Life - With Giveaway!
Wed, 03/13/2013 - 10:51am — admin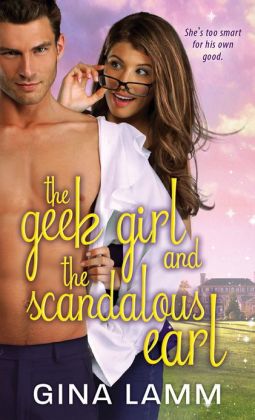 What would you do if all the conveniences of modern life were suddenly removed? No phones, computers or electricity. When Jamie, the heroine of Gina Lamm's debut novel The Geek Girl and the Scandalous Earl, finds herself transported to the 1800s, the lack of technology is only the first of her worries. Jamie materializes in the bedchamber of Micah Axelby, Duke of Dunnington, a man who is certainly not looking for a relationship. Navigating the rakish Duke is one thing, but fitting in as a Regency woman is quite another. Today the author explains how her nerdy, gadget loving heroine copes with her unexpected trip to the past. And at the end of the post, check out a way to transport yourself to the Regency with The Geek Girl and the Scandalous Earl giveaway!
I'm so thrilled and honored to be here at RT today! These past days since The Geek Girl and the Scandalous Earl released have been surreal. It's weird to think of something I did being sold in stores across the country! It feels almost like a new life. An alternate reality. I feel kind of like Jamie Marten did when she got sucked through the mirror into 1816.
One of the most interesting parts of writing GGSE was considering what day-to-day life would be like for Jamie. She's completely used to modern conveniences. Think about it. In my typical day, I use a computer, a cell phone, a car, a stove, a refrigerator, heating or air conditioning, electric light bulbs, not to mention running water.
How would it be if I didn't have any of that? Well, I kind of threw Jamie into it, so this is what it was like.
Instead of an alarm clock, a maid woke her up. Instead of showering twice a day, she had to make do with a bath in front of a fireplace as often as she could bribe the footmen into bringing one up. And as far as the toilet… well, you can imagine how YOU'D feel if you had to go in a pot instead of a toilet.
But what about entertainment? If you're a Regency fan, you know that most of the ton entertains themselves by visiting and gossiping with others. But Jamie can't go out in society. She's not even supposed to be there. She's used to gaming, to watching TV, reading comics. None of that exists now. So how does she spend her days?
Well, countess lessons take up a good chunk of the day. When the sweetly single-minded housekeeper is determined you're the next Countess of Dunnington, there's a lot to learn. Like embroidery, and watercolors, and the proper seating at a dinner party, and dancing, and deportment and…
Yeah. It makes Jamie want to scream too.
So whenever she can escape Mrs. K's clutches, she raids Micah's library. Lots of Shakespeare, and poetry, and saucy Greek plays. She's made good friends with Baron, Micah's greyhound. The two of them tramp through the garden together, and even sneak off for a good long walk a couple of times. She plays the piano whenever she can. Even though she's not used to the size or the sound of the ancient (to her) instrument, the act of making song helps her feel more at home.
And, when she just can't take it anymore, she'll power up her nearly-dead smartphone for a quick session of Fruit Ninja.
But of course, the most interesting time she spends is with Micah, Earl of Dunnington. When she talks with him, well…
I should probably stop there. Don't want to spoil anything for you!
Thanks again to RT for letting me stop by today! I've really enjoyed letting you get a glimpse of what Jamie's everyday is like. So next time you hop into the shower, be grateful you're not having to bribe a footman to bring you a few gallons of hot water!
- Gina Lamm
GIVEAWAY ALERT: Three readers will win a copy of The Geek Girl and the Scandalous Earl. To enter, leave a comment on this post telling us which modern technology you would hate to live without. You can also email your answer here with your mailing address and the subject line "Gina Lamm Giveaway". The giveaway ends March 19. U.S. addresses only.
BLOG UPDATE: The winners are purplepammy, nharvey and Eltheria.
You can pick up a copy of The Geek Girl and the Scandalous Earl, available in stores now. And for more time traveling characters visit our Everything Paranormal & Urban Fantasy Page.