Giveaway: Enter To Win An Advanced Copy Of Winterblaze By Kristen Callihan
Wed, 01/30/2013 - 12:25pm — admin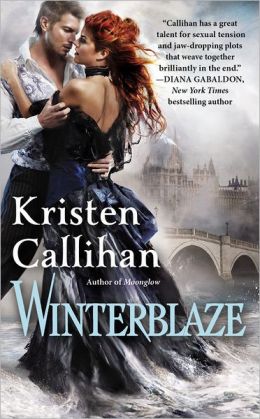 On a recent date night, my husband took me to see the Judd Apatow film This is 40, a comedy that investigates the intricate workings of a long term marriage. These characters are looking to get their spark back  — in their lives, in their careers and in their marriage.
The film takes place in contemporary Los Angeles, but the theme is a familiar one. Whether they live in ancient Rome or on a spaceship headed across the universe, movies, TV and books are filled with married couples needing to reignite their passion, save their marriage and find excitement again.
Spoiler alert: Winterblaze, the upcoming paranormal/historical romance by Kristen Callihan, is not one of these stories.
Sure, the novel's main characters Poppy and Winston Lane are married, but recapturing that loving feeling is not their problem. They love each other, still feel a blazing attraction towards each other and lead fascinating lives with plenty of excitement and outside interests. These two have more "spark" than they can handle.
Or perhaps I should say they have "ice" since Poppy is an elemental with the ability to control water. One thing she has no control over is the deep freeze she finds her husband in when he realizes her secrets.
Having powers is only the tip of the iceberg (pardon the pun). Poppy is also a member of the Society for the Suppression of Supernaturals which attempts to keep humans safe from the ghoulies, werewolves, vampires and various other creatures inhabiting the houses, ballrooms and streets of London.
After ten years of marriage, Winston is shocked to find out that his wife has supernatural powers. Not well done for a detective, a man that spends his life ferreting out secrets. But after a decade of being played the fool, Win is determined to deal in truths. Even if that means facing the biggest, most dangerous enemy of his life — a demon who has targeted his family. He wants desperately to save his wife, if only he could trust her.
Winterblaze, the third novel in Callihan's Darkest London series, is a fantastic tale of two people learning more about each other even after a decade of being together. The supernatural elements are exciting, but the heart of the story is a couple who fight to be together no matter what.
GIVEAWAY ALERT: The book releases February 26th, but RT is offering 25 readers the chance to meet this couple early. For the next week, we will be giving away an advanced copy of Winterblaze to five readers every day. Winners will also receive collectable buttons! All you have to do to enter is answer the question: What supernatural creature would you not want to meet on a dark London street? Leave us a comment on this post, our Facebook page or Tweet your answer at us (@RT_Magazine) using the hashtag #darkestlondon. You can also e-mail your answer here, along with your address. U.S. addresses only, please.
DAY 1 WINNERS: Mina De Caro, Justine Wang, DJ DeSmyter, Faith W, @catfriends (via Twitter)
DAY 2 WINNERS: Michelle T., Carrie L., Maryanne, sandydd, @JenaBriars (via Twitter)
DAY 3 WINNERS: Letitia Hensley, Kristen@SeeingNight, Veronica Buck, Molly Wilsbacher, @midnightjanie (via Twitter)
DAY 4 WINNERS: Jenna Elizabeth, Amanda Gordon, ashely, Sarah Stultz, @TammySigond (via Twitter)
DAY 5 WINNERS: Nicole H., Michelle Harlan, Jena Briars, hellocye, @RestaurantMaven (via Twitter)